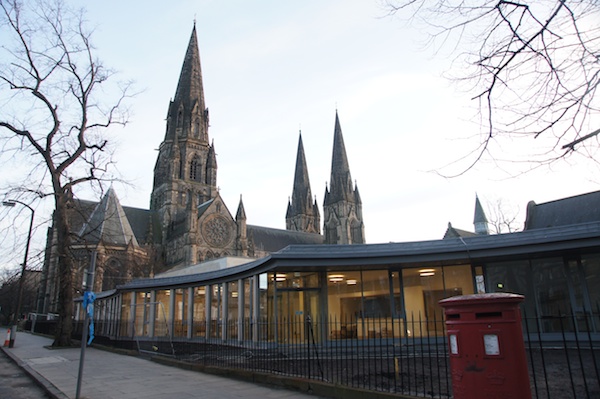 New West End Medical Practice opens next to  St Mary's Cathedral, Edinburgh
A new medical practice built on the grounds of Scotland's largest Cathedral has welcomed patients for the first time this week.
The £4-million West End Medical Practice has been developed on grounds within St Mary's Cathedral in Edinburgh.
The new two-storey building includes nine consulting rooms with two treatment rooms, a practice nurse consulting room, health education room, meeting room, library and staff facilities.
Developed in partnership by NHS Lothian, St Mary's Cathedral and the West End Medical Practice, the new building also includes a rebuilt stonemasons workshop and refurbished Walpole Hall.
The purpose-built facility replaces the Practice's current location in Chester Street, and consists of a low-level design with spacious rooms and spaces flooded with natural light.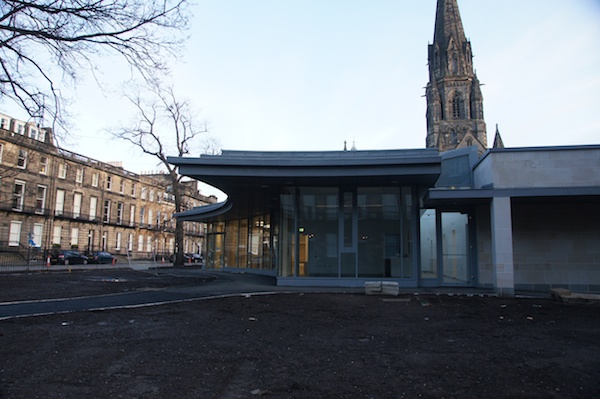 Shulah Allan, Chair, Edinburgh Community Health Partnership, NHS Lothian, said: "It's wonderful to see the new practice opening to patients. It will provide modern and appropriate healthcare facilities for the local community.
"What makes this development all the more interesting is its location in the grounds of Scotland's largest cathedral and one of Edinburgh's most iconic structures, St Mary's Cathedral.
"A great deal of work has gone into this development and it would not have been possible without the partnership working between NHS Lothian, St Mary's Cathedral and West End Medical Practice."
The Provost of St Mary's Cathedral, The Very Revd Dr Graham Forbes, CBE, said: "I'm delighted to see the new development has been completed. You can see that the new building blends in beautifully with the surroundings and will give all of us who live in this part of Edinburgh a modern GP surgery."
Dr Dean Pope, Partner, West End Medical Practice said: "We as partners and staff at the West End Medical Practice are hugely impressed by our stunning new medical centre. Many patients have also expressed words of praise for the development, recognising as we do that it provides very attractive bright and spacious modern health care facilities for all.
"A debt of recognition is owed to all parties that have worked tirelessly to bring this project to fruition through planning design, development and construction and we now look forward to starting afresh in our new build within the next few days."