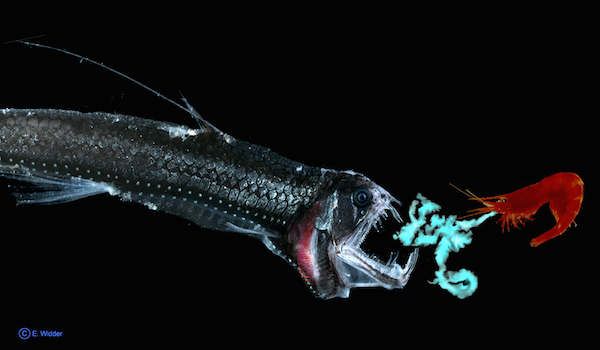 Living Lights was opened to the public  at The Mound Precinct by Science Festival Director Dr Simon Gage and Lord Provost the Rt Hon Donald Wilson earlier today. The outdoor exhibition celebrates the beauty, wonder – and oddity – of bioluminescence and fluorescence in nature.
The large-scale photography exhibition is an annual highlight of the Science Festival, this year moving from its previous location in St Andrew Square, to a new home at The Mound Precinct, where it will be situated until before transferring to Our Dynamic Earth for an extended run until October.
This slideshow requires JavaScript.
The exhibition features 60 amazing images, from organisations including NASA, the Ocean Research and Conservation Association, National Geographic and Harvard University. The photographs reveal how the emission of light by living organisms is used. This including fireflies who use periodic flashing to attract mates; marine plankton that make the sea sparkle at night; anglerfish whose bioluminescent lures attract prey and squid that expel luminescent clouds to repel predators.
The exhibition also illustrates how scientific research on bioluminescence and fluorescence is being put to good use in cancer research, tracking disease progression, detecting infection, searching for new life, tracking movements, improving aeronautical designs and developing innovative lighting technologies.
Edinburgh International Science Festival Director Dr Simon Gage said: 'I'm delighted that once again we're able to stage a wonderful outdoor exhibition right in the heart of Edinburgh's city centre for all to enjoy. Living Lights offers a fascinating insight into the weird and wonderful world of bioluminescence, unlocking its mysterious properties within nature, and also showing how scientific research is using this phenomenon to make amazing technological and medical advancements'.
Lord Provost Donald Wilson said: 'I am very pleased to welcome this fascinating exhibition of light emitted by living organisms to the Mound for the very first time. The Edinburgh International Science Festival is a key highlight on the city's Spring calendar and the Living Lights photography exhibition is a free event for all to enjoy. I am sure the brilliant and eye-catching images will draw visitors to the city centre from far and wide'.
Living Lights is open daily from Monday 31 March to Sunday 20 April 2014 and subsequently at Our Dynamic Earth from Thursday 24 April to Friday 31 October 2014. Entry is un-ticketed and free of charge.
The Edinburgh International Science Festival runs from Saturday 5 to Sunday 20 April 2014. Full details of the 2014 programme can be found at www.sciencefestival.co.uk. Tickets for all events can be booked online via the website or through the Box Office on 0844 557 2686.