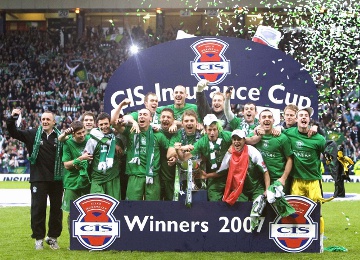 Former Hibs' star David Murphy has announced his retirement from the game due to a reoccurring knee problem, just two days after his 30th birthday.
The popular left back was signed by Tony Mowbray on a free transfer from Middlesbrough and played 134 times for Hibs including the CIS Cup Final win over Kilmarnock in 2007 and scored a match winning goal at Ibrox to put Hibs top of the SPL for the first time in seven years.
In January 2008 he moved to Birmingham City for £1m where he made 132 appearances however injury limited him to only 20 games during the last two seasons. He did win a Carling Cup medal with the Blues as an unused substitute against Arsenal in 2011.
Explaining the decision, Murphy told the City website: "All of my rehabilitation went as well as it could have done and I managed to return to playing for a brief spell.
"However, I wasn't able to sustain the heights of my previous form and as a result I have no option but to retire.
"Having sought advice from the surgeon and medical staff at the football club, I had to make sure in my own mind that I was ready to retire. I have reached that decision and will look forward to the next chapter in my life."
Blues' manager Lee Clark said that Murphy was the most talented left-back the Championship had seen in recent years.
"From a personal point of view, it's always sad when a player has to end his career through injury," the Blues boss admitted to bcfc.com. "It's a career that had no much potential. He's done a lot during his time in the game but he could have done even more because of his ability. He's still a young age really, and should be coming into his best years. It's a sad day.
"When I joined the club I was looking forward to working with the two best full-backs in the division in my team. But unfortunately Stephen Carr had to make the same decision and didn't play many games under me. David has been the same and we've basically lost the two best full-backs outside of the Premier League because of circumstances beyond my control, which has been a big blow."
Clark added: "I don't know where Murph's future lies and whether he plans to go into coaching but the club and myself would be prepared to help him on that side of things. I know he's got other interests outside the game and we wish him well, whatever he decides to do."
Hundreds of messages of support from both Hibs and Birmingham fans appeared on social network sites.
Former teammate Chris Hogg tweeted: "Sorry to hear David Murphy has retired. Top pro and a pleasure to play with. I'm sure he will be a success whatever he does next."
The Edinburgh Reporter wishes David well in his future career.