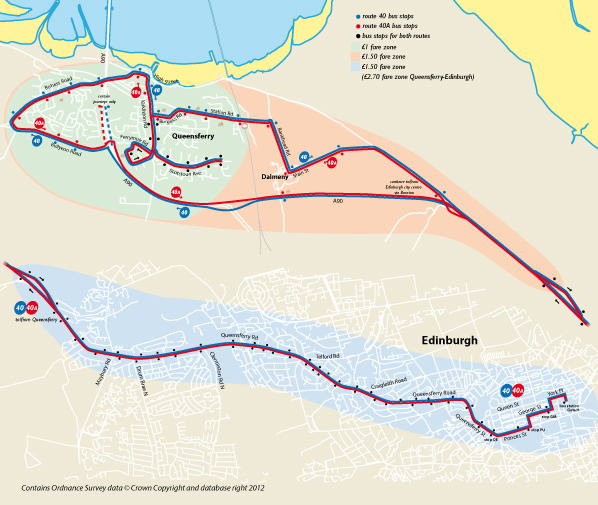 Stagecoach are holding a family launch event for the new single decker 40/40A Queensferry – Edinburgh route this Saturday 1 March, before it begins service on Monday.
"Come along to Hawes Pier car park this Saturday between 10am and 2pm to see the vehicles we'll be using on the route, learn more about the journey and our range of fares and tickets, and of course we'll be answering any questions you may have.
"It's fun for all the family as there'll be a bouncy castle and some kids entertainment as well as some free goodies!"
The new 40/40a will run every day from early morning till late evening from South Queensferry to Edinburgh. There will be a bus every 10 minutes at peak commuting times and every 15 or 30 minutes at other times.
Councillor Norman Work who represents the Almond Ward said:-"I welcome the introduction of the new Stagecoach 40 & 40A service between Queensferry & Edinburgh and look forward to using the buses when they are introduced on Monday 3 March. Due to the introduction of this new service First bus have announced they will withdraw their 43 service from 20th April so instead of being an additional service the new service will be the only service between Edinburgh & Queensferry.
"Stagecoach are offering a slightly different service to First and have published timetables and fares.  I hope they can live up to their promise of delivering a faster more efficient service as stated.
"Although welcoming Stagecoach I must say that this is a missed opportunity for Lothian Buses who have been asked but refuse to service Queensferry."
You can get on the service at the Bus Station in Edinburgh, outside The Dome and on Queensferry Street as well as all stops out past Barnton. The buses will have free wifi to allow you to keep reading The Edinburgh Reporter during your journey.
This service should provide a cost effective way of getting into and out of town since the fares will be no more than £2.70 per adult and £1.35 per child, with a group ticket for 2 adults and 2 children costing £7 which offers unlimited travel. There are also special fares in March and April to encourage you to use the new service and find out if it suits you.
Click here to read more and access the timetable.
Map courtesy of Stagecoach.