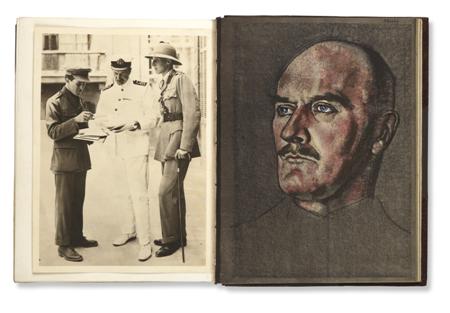 A rare private and incomplete copy of T. E. Lawrence's book The Seven Pillars of Wisdom, valued at £20,000 was sold at Lyon & Turnbull today for £42,050 to a private buyer who wishes to remain anonymous.  The "Cranwell" edition is one of 32 "incomplete copies" (from an edition of 211 copies) signed by the author to Major H.M. "Harry" Goldie, with a note saying "You, having been one of us, get (if you want it) a gratis copy of the text of the subscribers edition. I stipulated this in my letter to the subscribers. It's exactly the same text as they have, but has none of the illustrations… I take it, from your letter, that you'd like one of these private copies, & shall send it to you when it's ready… "
The new owner of the book told Lyon & Turnbull:- "I have been interested in T E Lawrence and the Middle East  and book production for over 40 years. For me this book embodies all three of my interests, it is, in my opinion, one of the finest books ever produced, taking huge effort and determination from Lawrence. He was a remarkable man and as I gave away my original copy a few years ago,  I am delighted to have another, especially one with such excellent provenance."
The lot also included an original photograph of T.E. Lawrence, Dr Hogarth and Col. Dawnay, an autograph letter signed from King Hussein to Harry Goldie, in Arabic, dated 23/11/37 and the Order of Service for T.E. Lawrence's funeral at St. Nicholas, Moreton.
Simon Vickers, Book Specialist at Lyon & Turnbull said:- "The book, a signed copy of Lawrence's Seven Pillars of Wisdom, was brought in by the vendor, which is exciting enough as they are very rare, but it this one was one of only 211 copies especially printed for those involved with Lawrence in the Middle East at the time."
Captain [later Major] H.M. "Harry" Goldie had served during the Boer War in the14th Company of the 5th Imperial Yeomanry [& later 26th Imperial Yeomanry]. At some point in 1916 or 1917 Goldie was attached to the Arab Bureau in Cairo. The Arab Bureau was a section of the Cairo Intelligence Department during the First World War, established in January 1916 to harmonise British political activity in the Near East. Gilbert Clayton was its head or "Chief", David Hogarth, a Naval Intelligence officer, was Acting Director, and Lawrence was an active member.
In Lowell Thomas's With Lawrence in Arabia the author refers to a trip around Jeddah "accompanied by Major Goldie, an officer attached to the British mission which had its headquarters there during the campaign". The Imperial War Museum photograph catalogue no. Q60009 is captioned "Captain Goldie on return from Bir Derwish after evacuation of Hejaz Expeditionary Force. Last British officer to leave the Emirs (Ali and Abudulla abna Husain al-Hashimi). At Yenbo." According to family tradition, Captain [later Major] Harry Goldie joined Barclays Bank in Cairo after the war in which role he transmitted funds to Lawrence. Also in this sale, Lawrence's Revolt in the Desert with autographed letter to Goldie, and the manuscript koran brought back from Jerusalem by Goldie.
Amongst other awards, Goldie was awarded The Order of Al Nahda of the Kingdom of the Hijaz by King Hussain Bin Ali of the Hijaz . British recipients of the Order of Al Nahda were published in the London Gazette, Goldie receiving the Order, 3rd class, on 16 January 1920, with him being listed as "Goldie, HM, T/Capt. Special List."
Thomas Edward Lawrence, the illegitimate son of Sir Thomas Chapman, an Anglo-Irish baronet, was born on 16th August, 1888. Educated at Oxford High School he developed a strong interest in archaeology and military history.
In 1911 Lawrence was recruited by D. G. Hogarth of Ashmolen Museum, to join an archaeological expedition led by Sir Finders Petrie at Carchemish, on the Euphrates. As the dig was closed down during the summer months he used this time to explore the area. It also gave him the opportunity to learn to speak numerous Arab dialects.
On the outbreak of the First World War Lawrence was recruited by army intelligence in North Africa and worked as a junior officer in Egypt. In October 1916 he was sent to meet important Arab leaders and after negotiations it was agreed to help Lawrence to lead an Arab revolt against the Turkish.
Lawrence of Arabia, as he became known, carried out raids on the Damascus-Medina Railway. His men also captured the port of Aqaba in July 1917. Sympathetic to Arab nationalism he helped established local government in captured towns such as Dera.
Lawrence had been converted to the cause of the Arabs and felt they were betrayed by the treaties agreed at the Paris Peace Conference. In 1921 Lawrence joined the Middle East Department of the Colonial Office. He also served as special adviser on Arab affairs to Winston Churchill, the Colonial Secretary (1921-22). Both men visited the Middle East in an attempt to deal with the growing conflict between Jews and Arabs in Palestine.
His account of the Arab revolt, The Seven Pillars of Wisdom was published privately in 1926. Later that year he rejoined the RAF and served for two years on the north-west frontier of India. In March 1935 Lawrence left the RAF. Two months later he was involved in a serious motor-cycle accident near his home in Dorset and died from his injuries six days later.
Photo courtesy of Lyon & Turnbull.