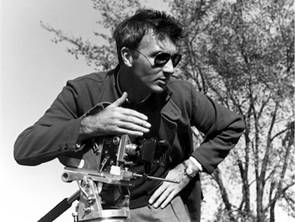 Edinburgh's Talbot Rice Gallery and Stills will both stage exhibitions as part of the centenary celebrations to mark the centenary of world-renowned Scottish filmmaker, artist, musician, and award-winning animator, Norman McLaren.  The Centre for the Moving Image (CMI), in partnership with the National Film Board of Canada (NFB) and partners across the UK, is producing the McLaren 2014 Programme, celebrating McLaren's life and work. This programme is part of the Glasgow 2014 Cultural Programme, and is part of the Year of Homecoming Scotland celebrations.
McLaren 2014 explores McLaren's life and work through an extensive programme of events, screenings, exhibitions and workshops that will take place across Scotland and the rest of the UK from April to August 2014.  In addition to these activities, an outreach programme of animation workshops has already started and will be running in over 140 schools around Scotland and in more than 20 public venues nationwide.
Norman McLaren was a world-renowned filmmaker, a genius of the moving image famous for his innovative and prolific animated experiments. Many of his short films won International Film Festival Awards, as well as the Academy Award (Oscar®) for 1952's NEIGHBOURS. He has influenced artists, filmmakers and musicians, from Picasso and Truffaut to Lucas and Linklater.
Born in Stirling, Scotland, on the 11th of April 1914, McLaren went on to study Interior Design at The Glasgow School of Art during the 1930's; his enthusiasm for film grew as a member of the student Kinecraft Society.  After gaining recognition at the Scottish Amateur Film Festival, McLaren was employed by the General Post Office Film Unit where his discipline as a filmmaker was forged.  After a brief period living in New York at the dawn of World War II, McLaren emigrated to Canada where he was invited to found the Animation Department of the burgeoning National Film Board of Canada, itself celebrating 75 years in 2014.  His philosophy of animation as an art of personal expression was to have an enormous influence on animation universally. Norman McLaren died on January 27th 1987 aged 72.
Iain Gardner, Artistic Director, McLaren 2014 commented: "As an animator, it occurred to me back in 2007 that one of my animation heroes, Norman McLaren, had his centenary approaching. He's one of the most famous Scottish artists who is relatively unknown in his home country! I've not been alone in that sentiment and now find I'm shoulder to shoulder with organisations across Scotland and the world who have helped bring McLaren 2014 together, so we can now share our enthusiasm for this important Scottish artistic pioneer and his joyous, wonderful movies."
Ken Hay, CEO, Centre for the Moving Image, said: "McLaren and his work is known and revered across the world; and yet in Scotland, McLaren is largely unknown.  His centenary in 2014 is the perfect time for Scotland to get to know Norman McLaren, his work and his legacy.  The CMI is both delighted and hugely proud to be bringing Norman McLaren back home."
Centenary events will include: A Dream of Stirling: Norman McLaren's Scottish Dawn photographic exhibition at the Smith Gallery; Historic Scotland's Heritage Plaque dedication at McLaren's family home; and A Chairy Tale, an innovative cine-dance show by French dance company Compagnie Natalie Cornille, based upon McLaren's short film of the same title, at the macrobert centre, all in Stirling. The Norman McLaren Centenary Film Tour starts in Stirling on the 11th of April, and will travel nationwide showcasing classic McLaren short films and his enduring legacy, in partnership with the National Film Board of Canada.
The celebrations continue to follow McLaren's path to Glasgow including a special presentation within the new building at the Glasgow School of Art. Norman McLaren: The Student Films (1933-36) will be introduced by Dr Sarah Smith, and accompanied live by the acclaimed Glasgow Improviser's Orchestra. The Glasgow Film Theatre will screen The Art of Drawn Movements: Animation Films by Glasgow School of Art Alumni and Animation from the Scottish Screen Archive; while CCA Glasgow hosts Animation in context: Screening and discussion and will present Pierre Hebert and Andrea Martignoni, Digital Scratch: Riding over Blinkity Blank, with pioneers of experimental performance Hebert and Martignoni combining live scratch animation, digital mixing and improvised sounds to create a visual soundscape in celebration of McLaren's legacy.
Edinburgh's Talbot Rice Gallery will curate a comprehensive McLaren Exhibition Hand Made Cinema, and Stills will host a workshop for 7-11 year olds: Analogue Adventures: Children's Direct animation Workshop (with Screen Bandita). Luigi Allamano from Concordia University (Montreal) will lead 16mm Animated Sound Workshops in Stirling, Glasgow and Edinburgh.  Stromness will celebrate with Living Colour, an exhibition at the Pier Arts Centre.
In addition to the various exhibitions, screenings and performances, another key part of McLaren 2014 will be a series of Digital animation workshops that will take place nationwide in public venues both in Scotland and in the rest of the UK, and at over 140 schools throughout the whole of Scotland. These workshops will introduce the techniques of McLaren and the fundamentals of animation through a fun education experience, using the McLaren's Workshop iPad App created and developed by the NFB. After each workshop, the short films created by workshops participants will be available online for parents and friends to view and share, on our website, www.mclaren2014.com.  Amongst the talented crew of workshop leaders is a close relative of Norman McLaren – his niece Trisha Anderson.
McLaren's films have been a regular feature of the Edinburgh International Film Festival (EIFF) since its first edition in 1947. In 2014, in addition to presenting the 25th McLaren Award for Best British Animation, EIFF will be announcing its special centenary plans at a later date with the latter half of the McLaren 2014 programme.
McLaren 2014 will culminate at the XX Commonwealth Games in Glasgow, with a number of public engagement workshops becoming part of proposed 'live sites' across the city.