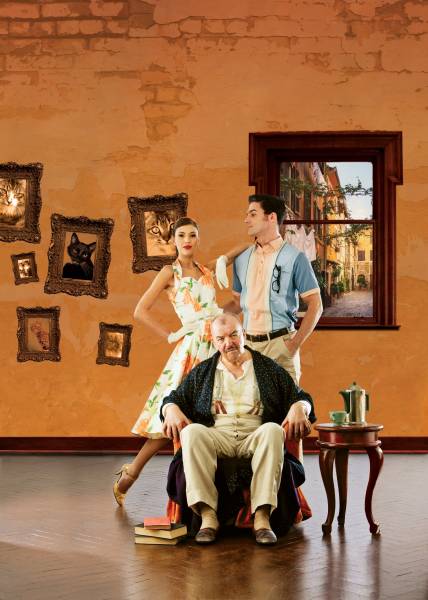 Edinburgh will play host to the sights and sounds of the Italian capital as the Scottish Opera presents Donizetti's masterpiece Don Pasquale for the first time since 1977.
In a brand new production for Scottish Opera, director Renaud Doucet and designer André Barbe are bringing their talent for storytelling back to Scotland after their five-star production of Manon in 2009. Don Pasquale is a comic opera which focuses on Rome on the cusp of the Swinging Sixties.
Barbe said:- "We feel that the creative energy of Rome in the 1960s presents the perfect setting to showcase the clash of generations. By working faithfully with Donizetti's dramatic score and the libretto, we want use the passion and energy of the setting to help tell this wonderful story."
This production of Donizetti's opera buffa tells the story of Don Pasquale, who owns a run-down boarding house and has a fondness for – but a tragic allergy to – cats. As his years advance, he worries that his nephew Ernesto will squander his inheritance by marrying the impoverished young widow Norina, so he determines to find a wife of his own to share his time – and his money – with. But married life does not turn out to be the solution for Don Pasquale, who finds himself at the mercy of the young couple's trickery in his old age.
Doucet said:- "We're really looking forward to bringing the warmth of Rome to Scottish audiences this winter. It's the perfect story to lift the spirits – quirky, quick-witted and colourful."
Alfonso Antoniozzi, Nicholas Lester and Aldo Di Toro are set to play the leading roles of Don Pasquale,  Dr Malatesta and Ernesto, respectively, while Scottish Opera Emerging Artist Andrew McTaggart sings the baritone Notary.
Former Scottish Opera Music Director Francesco Corti makes his return to conduct The Orchestra of Scottish Opera.
The production will run at the Festival Theatre on Tue 18, Thu 20, Sat 22 February at 7.15pm.
Booking details here.