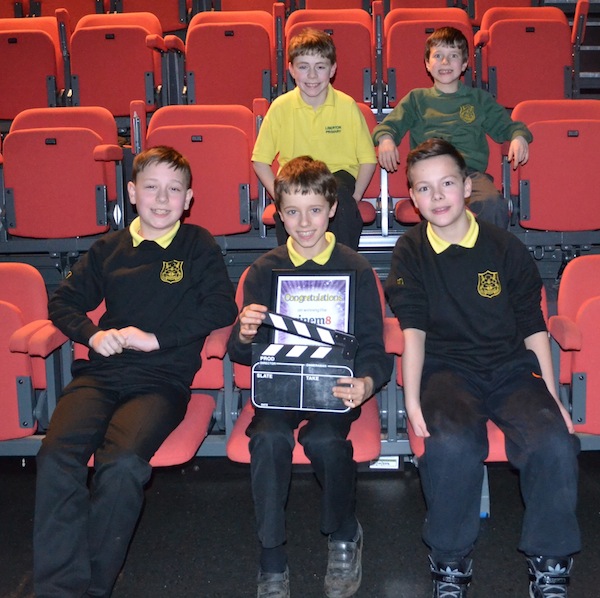 Edinburgh College rolls out the red carpet for schoolchildren 
Edinburgh College's Centre for Creative Industries gave local schoolchildren the chance to write their own movie stories in a competition to find the next generation of budding young filmmakers. The winners and their classmates received film-star treatment at the college's own cinema to reward their dramatic and creative flair.
Pupils were invited to put their imaginations to the test by describing a day in the life of their favourite film star. The aim of the competition was to discover the bright, young talent in storytelling across primary schools in Edinburgh.
Two winners were chosen from more than a hundred entries that flooded in from primary schools across the region. Robert Van Dijke, who is in primary six at Liberton Primary School, wrote a short story about the day he woke up as Rowan Atkinson. The judges were impressed with his detailed description of the star's busy day of cruising in his limousine, pottering around his mansion and shooting the new Mr Bean film.
Eilidh Spence, who is in primary six at Trinity Primary School, was crowned as the second winner with her story 'The Beast of Edinburgh Castle'. The film follows the life of a film star who is haunted by a monster called Rover. Eilidh's script stood out for the way it tackled the idea that constant paparazzi attention may not always be welcome.
Eilidh and Robert each won an exclusive screening of a film of their choice with their classmates in Edinburgh College's 90-seat cinema. The cinema at the Milton Road Campus is part of the college's Centre for Creative Industries, which offers a wide range of courses including television, music, performing arts, photography and sound engineering, all taught in purpose-built state-of-the-art facilities.
Jon Buglass, head of creative industries at Edinburgh College, said: "I was very impressed with the imaginative and colourful entries from all of the primary school pupils across Edinburgh. The college always strives to further its strong relationships with local schools and we were delighted to introduce the winners and their classmates to our facilities and entertain them in the cinema. We would like to see the pupils back to study with us in the future to hopefully nurture the next generation of Scottish Spielbergs and Scorseses!"
Photo shows (Back row L – R) Liberton Primary School pupils Lachlan Gray, Olaf Van Dijke, (Front row L – R) Guy Tennant, competition winner Robert Van Dijke and Josh Grigor.