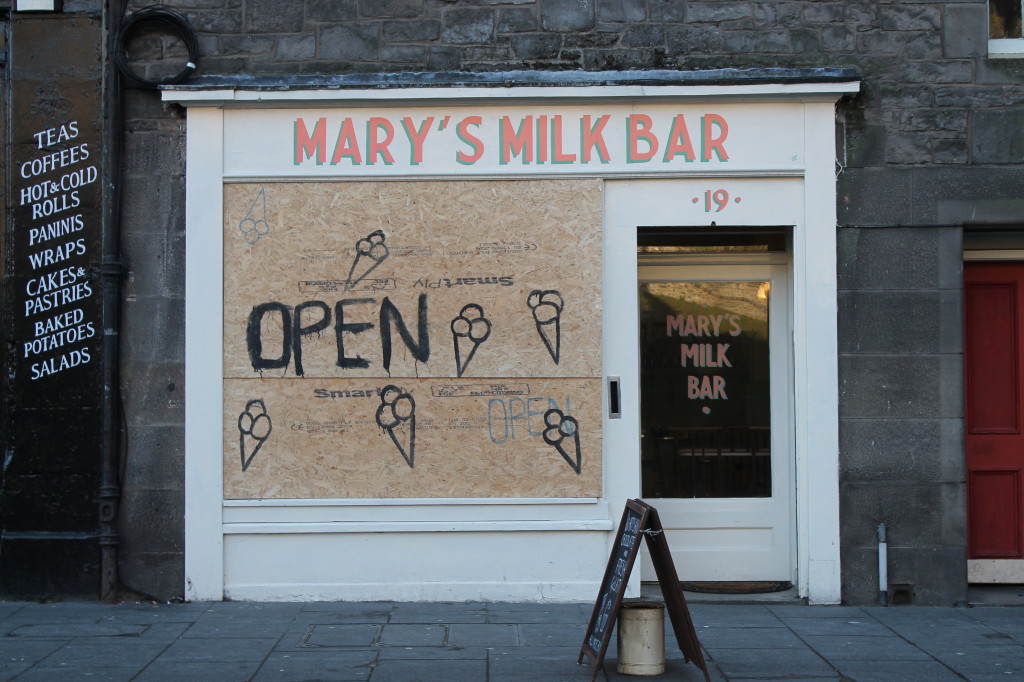 If you thought you had a sore head on New Year's Day, then spare a thought for Mary's Milk Bar in the Grassmarket. The owner of the ice cream parlour, which has been trading for just six months, had a rough start to the year when she discovered that Hogmanay revellers had smashed the front windows in.
But following her plucky posts on social media, owner Mary Hillard says the business is better placed than ever to survive the coming year.
Hillard, 27, told the Edinburgh Reporter that, "I didn't know what to do at first, but loads of people came down, giving me numbers of glazers and buying ice cream. There was a really nice spirit about it."
"I don't usually use social media – I don't have a personal account or anything like that, and only started getting involved with it since I went into business. But the response has been brilliant."
Posting about the shattered window was a stroke of genius from her boyfriend, said Hillard. "When I was boarding the window up, he said there's two ways you go about this; you can be sad about it, or you can be positive and use it."
And the extra attention the Milk Bar received proved to be a boost for the business, during a time of year when New Years' Resolutions might dampen punters' appetite for gelato.
"There's been an upturn in business, definitely in the first few days, because so many more people came in to buy ice cream and help me out. To be honest I'm quite enjoying it. I've had people say we're now more noticeable since we look a bit derelict, to someone who thought it wasn't real, like some chic Berlin pop-up shop or something."
The ice cream parlour, already renowned for its inventive flavour combinations, recently bagged a place as one of the 'Best Newcomers in Scotland' in the Skinny's Food and Drink Survey 2014.