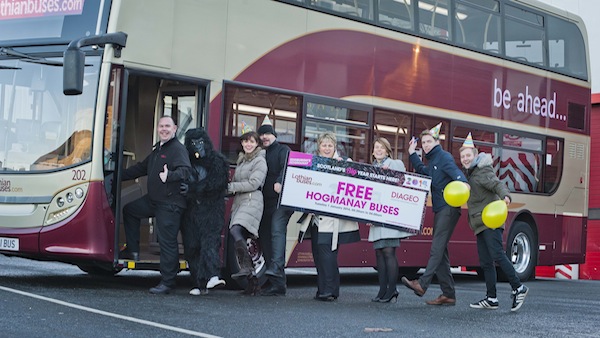 No need to drink and drive this Hogmanay when Diageo and Lothian Buses offer you a free bus service!
Organisers of Edinburgh's Hogmanay have teamed up with the world's leading premium drinks company, Diageo, and Lothian Buses to provide a free bus service for the audience at the world famous Edinburgh's Hogmanay celebrations.  Edinburgh's Hogmanay will welcome 80,000 revellers to the Street Party, Concert in the Gardens and Keilidh on 31st December with free bus services operating from 00:20am to 04:00am on Tuesday 1 January from the city centre to a range of destinations.  Diageo's Corporate Social Responsibility Manager, Lorraine Martin was joined by Sarah Boyd, Head of Operations – Bus from Lothian Buses to highlight the free services.
Full details of the free Hogmanay buses can be found on their website here.
Edinburgh's Hogmanay and Edinburgh's Christmas celebrations are produced by Unique Events and Underbelly on behalf of the City of Edinburgh Council.
Cllr Steve Cardownie, Festivals and Events Champion, City of Edinburgh Council, said:- "It's vital that we do what we can to help people get home safe and sound after seeing in the bells at the world's greatest Street Party. Revellers can celebrate the arrival of 2014 safe in the knowledge that they can hop on the bus home afterwards. Our thanks go to Diageo and Lothian Buses for their continued support."
Pete Irvine, Director of Edinburgh's Hogmanay, said:-"Edinburgh's Hogmanay celebrations are ready to launch 2014, Scotland's Big Year, to the world.  Last year the Hogmanay free transport helped nearly 20,000 revellers make their way home across Edinburgh quickly and safely and we would like to thank Lothian Buses and Diageo for providing this invaluable service to our partygoers."
This is the second year that Diageo have been involved in supporting the free service and Corporate Social Responsibility Manager, Lorraine Martin said: "Hogmanay remains a major occasion for celebration worldwide and there is no doubt that Edinburgh leads the way in showcasing how to have a great party in a fantastic environment.
"What we at Diageo are bringing to the party is the opportunity for revellers to be sure that after the celebrations are over they will have a safe and convenient journey home.
"We fully endorse the responsible drinking approach and with something like 20 services leaving from eight departure points every 15, 20 and 30 minutes after midnight until 4.00am, we are expecting the free buses to be a useful and reassuring part of another memorable Edinburgh Hogmanay experience.
"Last year's services were extremely popular and we expect more of the same after the Pet Shop Boys and the Midnight Fireworks have welcomed the New Year in style."
Sarah Boyd, Head of Operations – Bus, Lothian Buses, said:- "Lothian Buses is delighted to support Edinburgh's Hogmanay with our NightBus service, helping the city's partygoers return home safely after the bells. We hope that everyone enjoys the Edinburgh New Year celebrations."
Edinburgh's Hogmanay promises to kick off 2014 in some style.  The three day Festival starts with a cast of thousands enjoying the Torchlight Procession on Monday 30 December, and the celebrations continue with the World Famous Street Party and Concert in the Gardens on Tuesday 31 December and into a packed event of family fun on Wednesday 1 January. Hogmanay Revellers will enjoy the very best in live music from The Pet Shop Boys, The 1976, Django Django, Chvrches, King Creosote and Treacherous Orchestra among others, while REWINDER will showcase Scotland's impact on the modern world in an exclusive multimedia mix of irresistible floor-filling tunes turning Princes Street into the world's largest outdoor nightclub.
The evening culminates in the spectacular Midnight Fireworks from the ramparts of Edinburgh Castle and the world's largest rendition of Auld Lang Syne.
Revellers can purchase tickets for Concert in the Gardens and the world famous Street Party as well as vouchers for the Torches in the Torchlight Procession in one of three ways:
Online at www.edinburghshogmanay.com
Edinburgh's Hogmanay Box Office on 0844 573 8455
Edinburgh's Hogmanay Box Office at The Fringe Office, 180 High Street, Edinburgh.