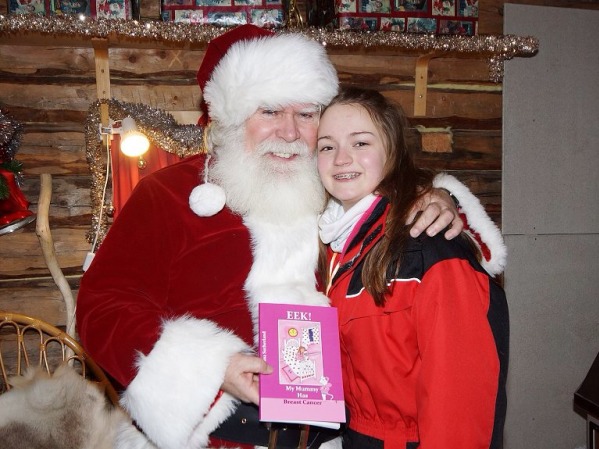 A few months ago, The Edinburgh Reporter told the story of a special book entitled ,'Eek!! My Mummy has Breast Cancer' which was written by 13 year old Emma Sutherland from Fairmilehead after her mother Rosie was diagnosed with the illness last year.
The book tells of Emma's struggle to deal with her mum's breast cancer diagnosis, and how she coped and managed her feelings, along with many facts about the disease, in a language that young people can understand. It has been distributed to every Maggie's Centre in the UK, and is also available at all 28 Edinburgh libraries.
At the book launch, Emma learned that she had been invited to Lapland by the charity FACE (Fighting Against Cancer Edinburgh)
Emma made the trip last week and this is her tale in her own words: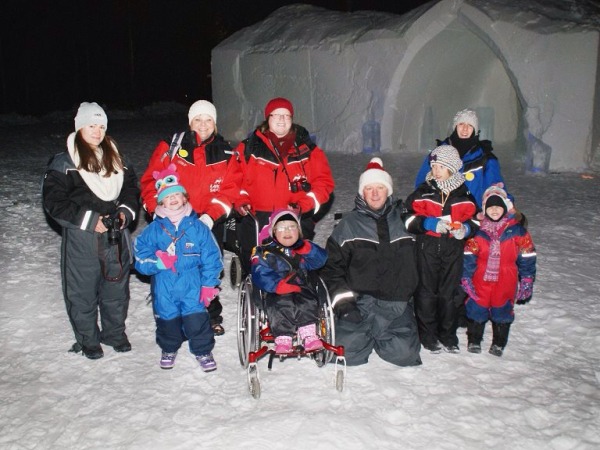 4 hours sleep! I couldn't believe it was 4am already. My mum woke me just as I was having a lovely dream. No time to even lie around as Liam, my FACE buddy and snowball enemy, was picking me up at 5am on the dot!! A splash of the face, lots of layers, sausage and toast and I was ready to go.  We could see the headlights of Liam's car coming up the street and at that point the excitement kicked in. I couldn't believe I was going to Lapland and getting to meet Santa.
The car journey was quick, only stopping to pick up Jamie, another member of my gang. Arriving at the airport, everyone began to arrive and we started going through the airport security and my bag got beeped!! I had to stand for fifteen minutes, waiting to see what it was that i wasn't supposed to have brought through. I was very confused! Once they looked through my bag they confirmed that there must have been a mistake! ( I later found out, at the Enontekio airport that the reason it had been beeped was because of a carton of apple juice! ). The shops in the airport were so amazing, and I got so excited! We bought some water, had a look round the shops, and went on a hunt for a place to buy coffee, and found a costa.
Finally it was time to board our flight. Taking off was really weird and I didn't like that bit but the views were incredible! After that, they brought out our breakfast. We got a hot meal, and a vegetarian suitable meal.
Then we got handed out or Santa passports. It has Christmas song lyrics, and a quiz, with questions like 'what is the total age of all the cabin crew, added together? On the way back, there wold be answers, and winners if you got them right.
And if we weren't already having enough fun, the singing started! Bear in mind that there was about fifty of us at the front of the plane, but the rest was just members of the public, who also happened to be going to Lapland the same day as us, and got the wonderful treat of us singing and dancing the whole way there, and back. Lucky them.
Children from all over the plane began making their way to the very front, where they would tell the cabin crew their name and what they wanted to sing for us. As soon as they started to sing, the whole plane joined in. We were a really bad choir but it was so much fun. I even got made to sing little donkey!! I was only going up for the toilet!!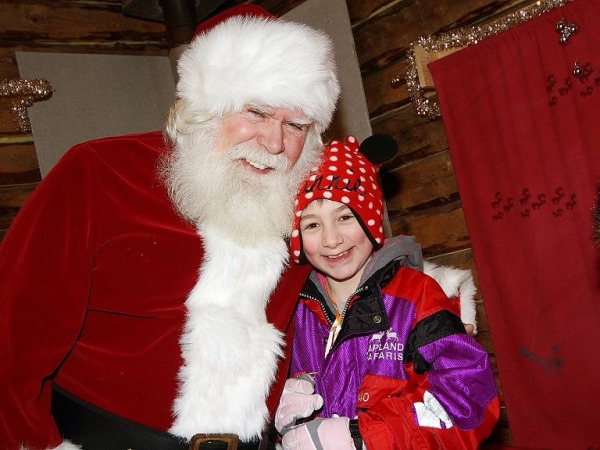 When we got to around Norway, we started to experience some mild turbulence. I'm alright with planes, but ever since my plane fell out of the sky, on the way to Barbados a few years ago, turbulence has just freaked me out completely.
When we first got off the plane, at first I didn't think it was that cold. I was mostly just glad to be off the plane, and stretching my legs. We walked round to the airport, and some weirdly dressed people were waiting to greet us at the door. We went in and through security. Once we were done there, we went through into a big room, and at the back of that room there was lots of people standing beside big crates, each full to the top with massive red and blue suits. The people looked us up and down and got the suit that they thought would fit us best. Then we collected our boots. Behind that, there was a huge room where everyone was getting changed. We got big white plastic bags for all of our personal  belongings that we didn't want to carry around outside. When I tried on my suit, it was far too big, so we had to go and ask for a smaller one.
Once we were all sorted and changed, we went outside. It was SO exciting because there was REAL snow!! Everyone got fitted for helmets, and mine had a really cool visor that you could pull up and down. I was glad I got this because after we had been given our helmets, we got into a big sledge which was being pulled by a snowmobile. We were sat on blankets, and then a blanket was also placed on top of us. Once we started moving, I was really thankful for the visor because snow was flying up into our faces from all angles. I actually got a headache for a few minutes because it was so cold! I like to tell everyone that I got a brain-freeze! But once I got a bit more used to the temperature I was ok. It wasn't even as dark as any of us expected.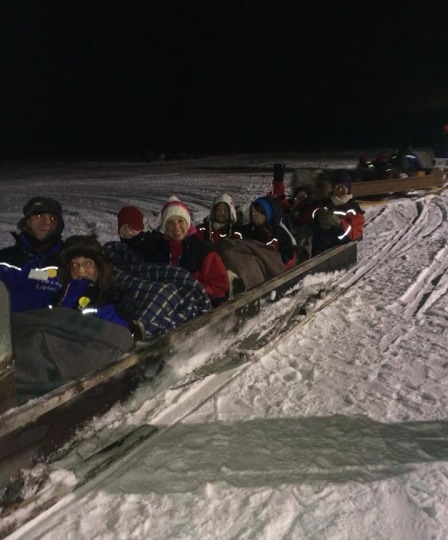 We finally arrived, and got out of the sledge, to find a tepee, with a big warm fire inside. A man gave us some instructions on when to be back to go to meet Santa and we were off, exploring the Santa village. The first thing we did was go on sledges that were being pulled by reindeer. They were so adorable! Once we did that we started to explore the whole place. The ice house was SO cool! It had a dining room, where hot chocolate and biscuits were being served, a bedroom, where there was a huge bed, covered in fur. It was surprisingly comfortable.  It also had one other room but I'm not sure what to call that. It had a big polar bear chair made from ice.
After that we went to the husky's. While we were waiting, I dropped my phone in the snow (twice)! I'm surprised it still works! Jamie and I went in the small sledge, and we were pulled in a big circle. It was absolutely incredible.  Next we walked back to the main area, and into the restaurant. They were serving Spaghetti, and pancakes (not together, obviously). We also had hot chocolate!
After some seriously funny snowball fights, and some more exploring, it was finally time to go see the man in the big red suit! While we were waiting, we started talking to a man who was standing by one of the barbeques/fires. On the corner, there was two sausages. He obviously saw our puzzled expressions, and said 'my dinner'. I found that really funny. Before we knew it, we were on our way, on another sledge. At the other end, 2 or 3 elves were waiting for us. We had great chats with them, until we were allowed to be let in to see Santa. As soon as we went in, we were instantly hit with the smell of apple and cinnamon, and a warm blaze from the fire. We piled into the small-ish cabin and took a seat. I was the first person to be introduced to Santa. John told him all about my book, and we gave him a signed copy. After everyone had spoken with Santa, one of the elves gave us all a bag of presents! We were a bit impatient, and by the time we were back in the sledge we knew what they were again! We went back to the restaurant for a quick toilet stop, and a hot chocolate.
We took another stroll around the village, had a few more snowball fights and It was time to go. We all got on a couple of coaches, and we were taken back to the airport. It was so nice to get the big suits, and boots off! 1 ½ later, and we were ready to board our flight once more. We walked over to the plane, and Liam forgot his wallet so had to run back over to get it!
That was basically the only seat I had had singe 4 AM, and that's when I realised how tired I was. I fell straight asleep, and when I woke up, I discovered that I had missed all of the taking off, and most of the turbulence. Yay!  We got our dinner, which was actually really tasty, and the majority of the journey was just me, Liam and Jamie singing any song we could think of! Closer to the end of the flight, Liam and I went up to the back of the plane. We were selling the FACE 20th anniversary souvenir badges. I was really shy at first, but by the time we got to the front, I had gotten more used to it. We managed to get about three hundred pounds! Wow! Walking through the airport, and past baggage claim was so exciting. I knew that any second, I would see my mum again! I missed everybody so much! We said our goodbyes, and thank you's , and we were off home!
Since I got back, so many people have asked me 'Oh my gosh how was Lapland? Did you have a good time? What did you do? ', but honestly I don't have any words to describe it, because it was just absolutely phenomenal. I met so many amazing people, that I know are now friends for life. It easily the best day of my life, and I know that I will never ever forget it.