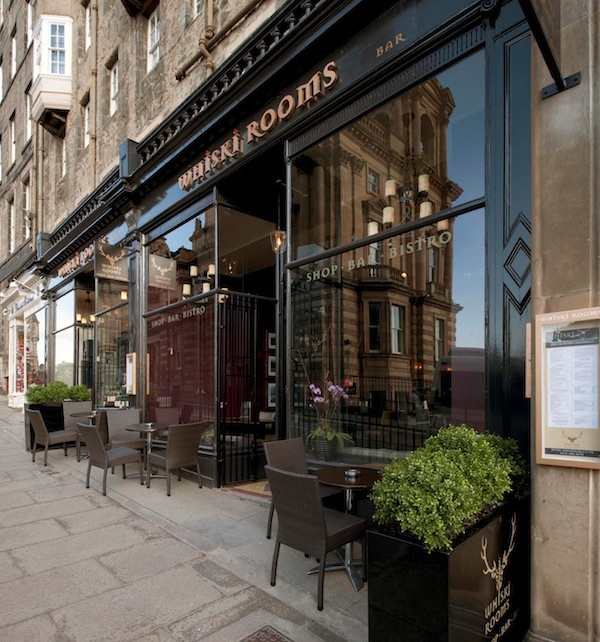 Gary Still is mine host at The Whiski Rooms and Paul Johnston caught up with him to talk about all things spiritual….
So here I am interviewing the man behind one of my favourite restaurants in Edinburgh, just after his two and half year old shop, restaurant and whisky bar had been awarded runner up in this years SLTN Whisky Bar of the Year. Here I am trying to behave like a balanced and subjective journalist speaking to a man who, I think has changed the way a lot of people in the food industry approach restaurants and dining experiences. I can just hear my editor groaning, wishing she had sent a better man, someone who would ask some searching and probing questions. Oh no, what would I do, how should I approach it, how would I hide my obvious enthusiasm? (Oh dear… Ed.)
Well I didn't, I just asked him how HE approached things. Why he did what he did and how he was going to keep it going? And this is what he said…
Born in South Africa, but raised in Aberdeenshire Hill took over a Whisky Bar on the Royal Mile in 2006 and set about rebranding it, pushing whisky, a product that he felt was so linked in with the image of Scotland that in most peoples' psyche it was Scotland.  He loved whisky and he loved Scottish food, so much so, he put them together and………well here we were, sitting in his Kerr Blyth Architect & Designer, designed, shop, bistro and restaurant discussing just what I asked him. He's a charming person, easy to talk to and full of honest enthusiasm for what he does. Its really hard not to be caught up with his infectious want to pass on what he loves. There is none of the normal corporate speak that normally comes with success, no just real enthusiasm.
With the shop and restaurant on The Mound he wanted to create a casual and relaxed atmosphere that didn't interfere with the product he was selling. It's the product that inspires him and he really believes the product is great. So great he has developed deep links with all the independent distilleries in Scotland and knows the taste, nuance and subtlety of each brand. He listens to the distilleries, moving with their trends, he takes on their suggestions and acts on their wishes. It sounds like they trust him and want to work with him.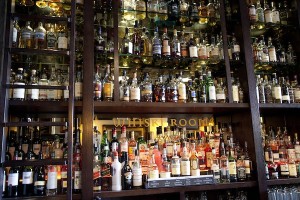 He has over 300 single malts tastes on his gantries and ALL are available to buy in his shop. I really believe he does know them all and if pressed he would guide you to what you want to taste. He wants whisky to move away from the traditional image of an old man drinking a half and a half. He wants whisky to be enjoyed by all age groups. Why enjoy a wine with your food when you could enjoy a whisky. It should all add up to a quality product and a great experience.
So since the beginning  Gary has sourced the best products possible. And now he guarantees 3 things: Great food, great whisky and a great atmosphere. Everything I've experienced backs this up. He's so in tune with the whisky industry that he knows the hot tips, the soon to be rare bottles and the best buys.
There's a lot of interest in Islay malts at the moment he tells me and because of that a few limited release bottles have totally sold out.  He reckons some malts are so small they get lost amongst the bigger brands and he wants the shop and the restaurant to be a place where they get a chance. So much so he has commissioned his own, 11-year-old Speyside Malt called Braeval. Its beautifully packaged and presented with a label that gives tasting notes and the number of the bottle from the cask.
He's a man who turn his dreams into reality so when I asked him what he was working on, he started telling me about his soon to be introduced craft beer. He really believes in local, home grown talents and he wants to help develop that at every opportunity. His shop and bistro actively promote locally sourced produce; Neptunes for fish, McSweens for Haggis, Crombies for meat to name but a few. He would love to have his own farm where he knows that his belief in great products would be actively worked on.
"Come on' I said 'what about the future?" Well he paused and he drifted off, just for a moment lost in his own 'wee' world……."A distillery………. my own distillery." ………..I could see he was enjoying the dream so I didn't interrupt, in fact I just joined in, because if any one could make that happen then it would be Gary.
I can almost taste the whisky now………..
Whiski Rooms in Edinburgh were awarded the prestigious Whisky Bar of the Year at the SLTN awards 2013 which took place at The Hilton Hotel in Glasgow earlier this month.
Now in its 18th year, the SLTN awards continue to represent the benchmark for excellence in Scotland's licensed leisure, hospitality and tourism sector.
Anne and Gary Still who own Whiski Rooms commented on their latest award success: "We are delighted and over the moon to be awarded Whisky Bar of the Year for Whiski Rooms.  It is a great achievement for us and our team. We are now going to celebrate"
With over 300 malts and blended whiskies, cocktails, Scottish craft beers and a comprehensive wine list, Whiski Rooms has established itself as being one of the best bars and restaurants in Edinburgh. Whiski Bar on The Royal Mile – a celebrity favourite and a multi award-winning Whisky Bar and restaurant is also owned by both Anne and Gary Still.
Whiski Rooms specialises in all things Scottish with a premium drinks range including an amazing range of whisky, wine and beer both in the bar and shop. Customers are always encouraged to try before they buy. Whisky tastings, fresh Scottish food served all day with regular live music in the evenings .