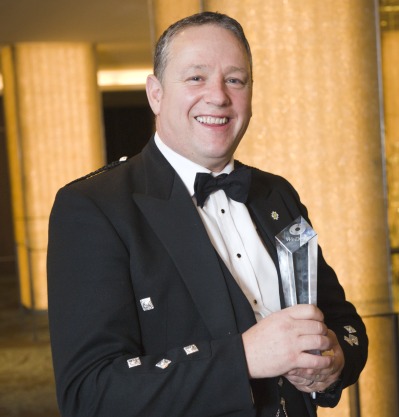 Dougie Walker of Edinburgh based Claymore Security Solutions has been named Entrepreneur of the Year at the WeDO Scotland annual awards.
The company was  established in 2011, and provides security solutions for corporate clients operating in hostile environments in areas such as oil and gas, maritime security, private investigation and valuable asset transfer.
The awards recognise the outstanding business success stories among the 150-strong membership of the Scottish networking group for entrepreneurs.
Mr Walker said: "I am incredibly shocked and humbled to have been awarded Entrepreneur of the Year.
"Claymore has experienced good growth and success in the past year and this award is great recognition of that.
"From a small idea I had only a few years ago to being and award winner is extraordinary.  I look forward to 2014 with drive and excitement.  I would like to thank WeDO for giving me this opportunity and for all its support."
Other categories were the High Growth Company which was scooped by fatBuzz; the Most Innovative Business was identified as UWI Technology; Young Entrepreneur was named as Kirsty Mackenzie from iMultiply Resourcing; and New Start Business award was given to The Big Cheese Making Kit.
Belinda Roberts, Founder of WeDO Scotland, said:"Dougie Walker and his team have established and built a business in an inspirational way and it has been a pleasure hearing how their hard work and ambition is paying off with the company going from strength to strength.
"The judges and I had a fantastic time learning more about the passion and drive of our members and these business stories which should be held as shining examples of the entrepreneurial spirit which is alive here in Scotland."
WeDO Scotland is a networking group for entrepreneurs in Scotland. With around 150 members, the exclusive group is by invitation only and works with small, young start-ups through to larger and more established businesses.
The judging panel for the awards included Graham Langley, founder of GL Capital, Russell Dalgleish, Founder of Exolta Capital Partners in London and Jack Ogston, Non-Executive Director of Davidson Chalmers LLP and the Scottish Building Society.
The fifth annual WeDO Scotland awards were held on Friday 22nd November at Edinburgh's Sheraton Grand Hotel.