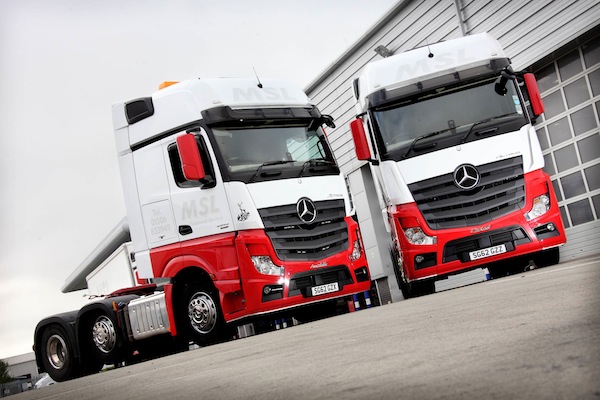 More than 20 years after he started his long-distance driving career behind the wheel of a Mercedes-Benz SK Powerliner, Dave Sharp remains a dedicated fan of the three-pointed star.
Now a Director of MSL Transport, of Broxburn, near Edinburgh, Mr Sharp has just added the first New Actros units to his fleet.
The two 2545 GigaSpace tractor units and a pair of 2545 BigSpace rigids were delivered by Western Commercial, along with two 2546 tractors from the current Actros range.
"I've always had a soft spot for Mercedes-Benz trucks," reveals Mr Sharp, whose company operates, like the Dealer, from the town's East Mains Industrial Estate. "They have proved excellent in terms of reliability and high-quality engineering."
The latest arrivals have joined a fleet of 12 trucks dominated by Mercedes-Benz. Most are double-shifted – MSL collects and delivers consignments ranging from a single pallet to a full load in the daytime, and trunks to a depot in Telford during the night.
Its New Actros are powered by state-of-the art 330 kW (450 hp) straight-six engines, driving through Mercedes PowerShift 3 automated transmissions.
"It's a really well-designed truck, and looks great in our colours," he continues. "Like most operators these days, though, our biggest concern is fuel. Our tractor units don't run heavy but we pull very high capacity double-deck trailers, which are a big drain on a vehicle's fuel economy because they are so tall.
"Even so, our New Actros tractors are averaging 8.8 mpg, and with standard trailers they're recording 9.9 mpg, which is certainly ahead of our average. The rigids meanwhile are averaging about 9.5 mpg, which is very good considering they're on multi-drop work with constant stopping and starting."
Mr Sharp has already ordered another pair of New Actros 2545s with range-topping GigaSpace cabs; these will also wear the company's distinctive red and white livery with high-visibility reflective lettering.
"As well as achieving excellent fuel returns the New Actros are also very popular with our drivers, who really appreciate the large, comfortable and well laid out cabs," he adds.
"Western Commercial's service is first class too, while the fact that the dealer is so close to our own premises is a welcome bonus – we have a great relationship with the dealer's Broxburn team, who are always ready to help should we need them."