Edinburgh in August is full to bursting with offers of entertainment from thousands of performers whose marketing techniques inspire reactions from, 'hm, you seem vaguely familiar…' to 'I will now cross the street in front of oncoming traffic to ensure you remain a stranger forever'.  In this environment it's nigh on impossible to get a sense of which shows are worth shelling out money for, and which ones will lead you to fall asleep, mouth open, in a broom cupboard somewhere in the old town.
One way to manage this is to stay at home for the whole month, but a) that's impractical and b) you'll probably get rickets.  Another direction you could take is to read The Edinburgh Reporter's extensive Fringe coverage, and pick something based on that.  OR, you could go and see someone that has yet to disappoint – an established act that gigs constantly and draws critical acclaim wherever they lay their hat(s).  This Saturday, we strongly suggest the act that best fits the bill is alt-pop band Kid Canaveral, who just so happen to be playing their first headline show in Edinburgh since the release of second album Now That You Are a Dancer at The Liquid Room on Victoria Street.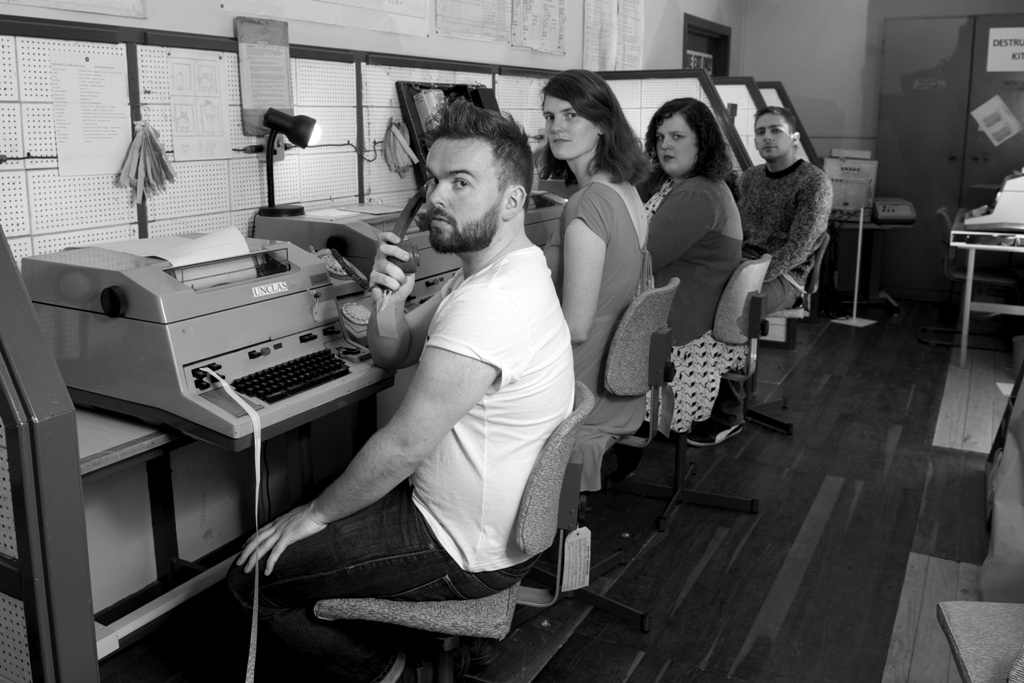 For those who do not know and are too lazy to click this link to their website, Kid Canaveral are an alternative pop group based in Edinburgh.  The band – David MacGregor, Kate Lazda, Rose McConnachie and Scott McMaster – released debut 7″ single Smash Hits on their own label Straight to Video Records in 2007 and self-released a further 4 singles, an EP and debut album Shouting at Wildlife before signing to Fence Records in 2011.  They went on to smash the 'difficult second album' myth with hammers when they released Now That You Are A Dancer to critical acclaim in 2013.
If you like beautifully assembled pop music that can be described with adjectives like 'catchy,' 'skilful,' and 'life-affirming,' this gig is for you.  And, if that weren't enough, the band will be joined by the Cairn String Quartet for part of their set.  CSQ recently played at the MOBOs performing with Professor Green and Emeli Sandé, so the Kids are in good company.
With support from local indiepop legends ballboy and rising stars Campfires in Winter, not to mention a promise from Kid Canveral themselves to 'pull out all the stops to make it our biggest and best show ever' (we read that on the internet so it must be true) this promises to be a great night of live music – and all for the cheaper than average Fringe show price of £8.
If the festival has conditioned you to process information in star ratings only, you're looking at:
***** (Five stars) – The Herald
**** (Four stars) – The List
**** (Four stars) – The Skinny
A BBC Radio Scotland album of the week.
If you're still able to make judgements based on other sensory input, why not have a listen to the Cairn String Quartet's cover of Low Winter Sun and see whether you want to hear it played with the full band:
Who knows, if enough people turn up, they might even play Waves.*
Kid Canaveral
Time: 7pm
Place: The Liquid Room
Date: SATURDAY 10TH AUGUST 2013
Tickets: £8, available from Tickets Scotland, Ticketweb and Ripping Records.
Over 16s only
*They won't.