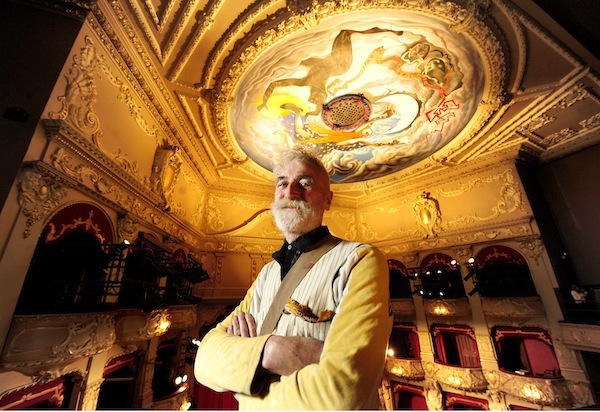 Commissioned by the Festival City Theatres Trust as part of a major restoration and refurbishment of the King's Theatre, 'All the World's a Stage' depicts a swirling celestial scene, where a black harlequin carries the sun through the clouds and a flame-haired woman, draped in a star-cloth banner, pushes the moon through the sky. Playing on the duality of light and shade and the progression of day following night, the mural is rich in theatrical motifs and references, including the famous lines from Jaques' famous monologue in As You Like it.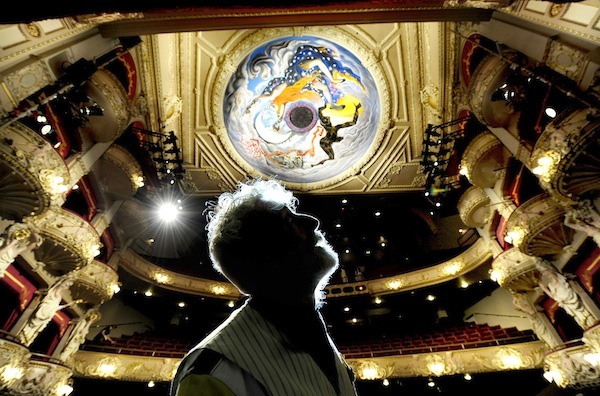 A perfect partnership of visual art and theatre, the new dome at the King's reflects a life spent as an accomplished fine artist and also as one of the most notable playwrights of his generation. John Byrne's unique status as an artist and dramatist made him the ideal choice for the King's commission.
Duncan Hendry, Chief Executive of the Festival City Theatres Trust said: 'There was no one more appropriate to provide such a beautiful and thought-provoking design and I'm sure that audiences will enjoy his work for many years to come."
John, quick to agree, added: 'That's a very, very nice thing to say. And it's true. I cannae think of anyone else.'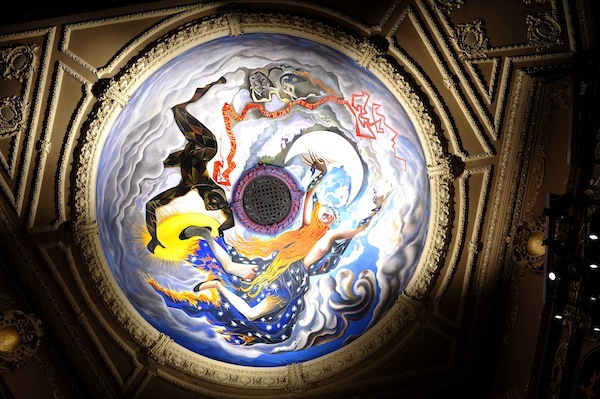 The King's dome commission was painted over the course of 5 weeks, by a team led by John Byrne and artist Kevin O'Leary. It marks the completion of a major refurbishment designed and project managed by Rachel Simmonds of Edinburgh architects Smith Scott Mullan Associates, which included luxurious new seating, new carpeting, a new ventilation system and a completely refreshed and restored interior decorative scheme, completed by award-winning architectural heritage and decorating firm Nevin of Edinburgh. Revealing some of the finer details of the baroque plasterwork lost for many years under layers of dust, the dramatically enhanced interior of the King's will prove just as dazzling as the works on stage.
The first public performance at the refurbished King's Theatre will be Metamorphosis in the Edinburgh International Festival, opening on Saturday 10 August at 8pm.
The Festival City Theatres Trust is an independent theatre organisation which runs two of Edinburgh's oldest and best-loved theatres – the Festival and King's Theatres. The King's Theatre was designed by architects James Davidson and JD Swanston and opened in 1906, boasting beautiful art nouveau foyers before opening out onto a tremendously opulent baroque auditorium.
The King's is now Edinburgh's home of quality touring drama, bringing the UK's best productions to Scotland.  Over the years the King's has played host to some of the world's biggest stars including Sir Laurence Olivier, Maria Callas, Noel Coward, Leslie Nielsen, Sir Patrick Stewart, Sir Ian McKellan, Penelope Keith, and Simon Callow.
The King's remains a community theatre at heart, earning its place as 'the people's theatre' by remaining committed to supporting Edinburgh's long tradition of amateur theatre and operatic groups.  It is also home to the annual King's Panto which welcomes almost 90,000 people a year.
Photos by
Colin Hattersley Photography
Public Relations  –  Press  –  Corporate  –  Charities  –  Arts & Entertainment
07974 957 388
colinhattersley@btinternet.com
www.colinhattersley.com