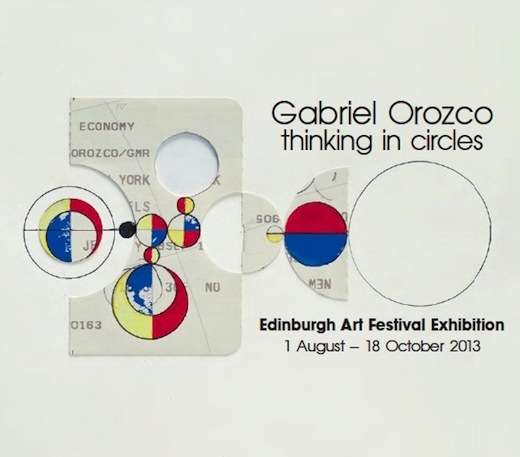 A new exhibition opens on Friday 1 August 2013 of works by Orozco. This is part of the Edinburgh Art Festival but will  continue long after that has actually finished.  The exhibition is sited at the Fruitmarket Gallery on Market Street where you can also get a lovely cup of coffee or a bite of lunch when you have wandered round the art on show and the bookshop.
Gabriel Orozco (born Jalapa, Veracruz, 1962) is one of the foremost international artists of our age. Rising to prominence in the early 1990s, he has developed a consistently innovative practice, making work which not only captures the imagination but also powerfully engages with key material and conceptual issues of what it is to make art.
This new exhibition takes the 2005 painting The Eye of Go as its starting point, and looks at how the circular geometric motif of this painting – part of a way of thinking for Orozco, a way to collect together ideas of structure, organisation and perspective – migrates onto other work, recurring in other paintings, sculptures and photographs.
A highlight of the exhibition is a series of large geometric works on acetate, made in the mid 1990s, yet never before exhibited. Rather than surveying the whole range of Orozco's practice, the exhibition seeks to cut a conceptual slice through it, to look deeply into the mechanics of the artist's thinking and working process. Not only does the exhibition propose a different view of Orozco's major contribution to changes in art in the 1990s but it brings to the fore the urgent problem of art's 'makeability' now.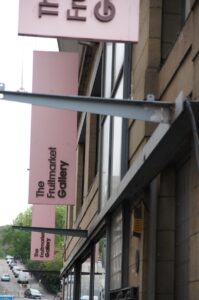 There is a range of talks on the subject, and also a book which accompanies this exhibition. More information on the Fruitmarket Gallery website.
Fruitmarket Gallery
45 Market Street
Edinburgh, EH1 1DF
P +44 (0) 131 225 2383
F +44 (0) 131 220 3130
E info@fruitmarket.co.uk