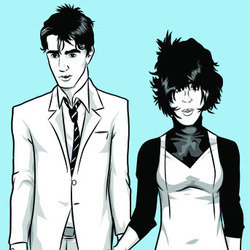 Venue 61: Underbelly (Big Belly), Cowgate, Dates: 1 – 25 August 2013 (not 12) Time: 16.00 (ends 17.00) Tickets: £6 – 11
Winner – IdeasTap Edinburgh Award 2013
One of four new theatre companies handpicked and supported by IdeasTap and Underbelly to bring shows to the Edinburgh Festival Fringe 2013.
The Islanders is a lo-fi musical about memory, first-loves and growing up. In the late nineties, teenage couple Amy Mason and Eddie Argos (now lead singer of Art Brut) fled their bedsit haven of damp walls, smashed furniture and only orange foods for a holiday on the Isle of Wight. It was to become a holiday that both cemented and tested their relationship.
Thirteen years on, through story and song, they try to make sense of an island, a holiday and a relationship that have become absurd in the retelling.
Written and performed by Amy Mason – Amy is a writer and is writer-in-residence at Spike Island in Bristol. This is her first theatre show.
Music written and performed by Eddie Argos – Eddie is best known as lead singer of guitar band Art Brut, who have released five albums (two produced by Frank Black of The Pixies; their second reached #14 in US Billboard charts) and toured internationally.
With additional music by Jim Moray – Jim is a multi-award-winning folk singer/songwriter regularly touring the UK. He has won three BBC Radio 2 Folk Awards (with a further three nominations), won the MOJO Folk Album of the Year and been nominated for BBC Folk Awards Album of the Year. His current tour plays Edinburgh's Summerhall on June 3