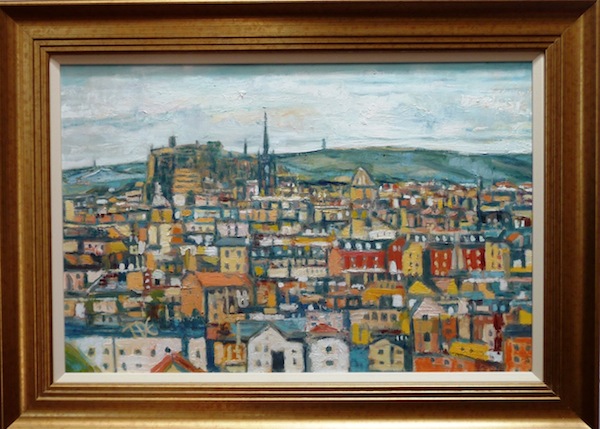 Edinburgh-based artist, Tom Ewing's impressions of the capital city will be on display in a new exhibition of his work at the National Trust for Scotland's Gladstone's Land this month.
The exhibition, titled 'Edinburgh and other places' focuses on a striking array of Edinburgh townscapes which capture the movement and vibrancy of the city beautifully. Ewing is also well known throughout East Lothian for his contribution to the Prestonpans Murals Trail, and therefore it is perfect that he should choose to have an exhibition in the Gallery at Gladstone's Land where there is a beautiful painted 17th century ceiling that dates from 1620.
The exhibition shall also display a selection of Ewing's work from time spent in the Scottish Highlands and the picturesque town of Barga in Italy. While his work for this exhibition is predominantly in oil, there are a variety of pen and ink drawings which will be available for sale throughout the week.
There is free entry to the exhibition at the Gladstone Gallery on the second floor of Gladstone's Land from Tuesday 9 – Sunday 14 July, from 10am – 7pm each day. This is one of a series of short free exhibitions taking place at Gladstone's Land this July:-
Art Exhibition: Tartan – Sharp Edge Artist's Group

Tuesday 16 – Sunday 21 July, 10am – 7pm

Art Exhibition: Karen Clulow

Tuesday 23 – Sunday 28 July, 10am – 7pm

Art Exhibition: Silk Wings and Things – Kristianne Harvey

Tuesday 30 July – Sunday 4 August, 10am – 7pm