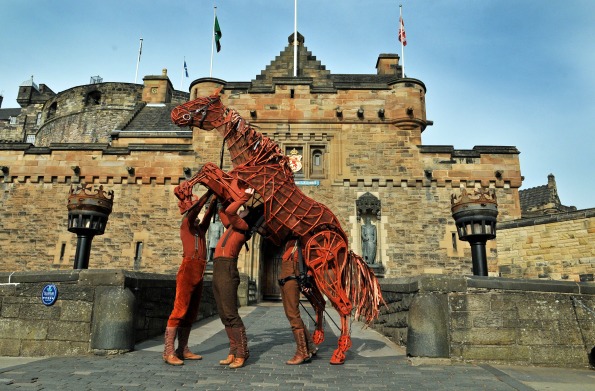 War Horse, the critically acclaimed play based on the beloved Michael Morpurgo novel about the First World War, and one young man's devotion to his horse, is coming to Edinburgh's Festival Theatre next year.
The production has been seen by over three million people worldwide since its premiere at the National Theatre in 2007. War Horse is the powerful story of a young boy called Albert and his beloved horse Joey, who has been requisitioned to fight in the First World War. Caught in enemy crossfire, Joey ends up serving on both sides during the war, before ending up in no-man's land, while Abert, not old enough to enlist, embarks on a treacherous mission to find his horse and bring him home.
A remarkable tale of courage, loyalty, friendship War Horse features ground-breaking puppetry work by South Africa's Handspring Puppet Company, which brings breathing, galloping horses to life on the stage.
On Tuesday, Joey, the life sized horse equine puppet made an early appearance at Edinburgh Castle, before showing off his considerable talents to a specially invited audience at the Festival Theatre.
Young and old alike sat enthralled as the National Theatre's managing director Stephen Rebbeck introduced a short film showing Michael Morpurgo explain the background to the story, before handing over to Associate Puppetry Director Finn Caldwell who has worked on the play since its early development.
Finn described the work done by Handspring Puppets to bring Joey to life, then introduced him to the audience who greeted his appearance with gasps of amazement then thunderous applause, as he made his way slowly to the stage.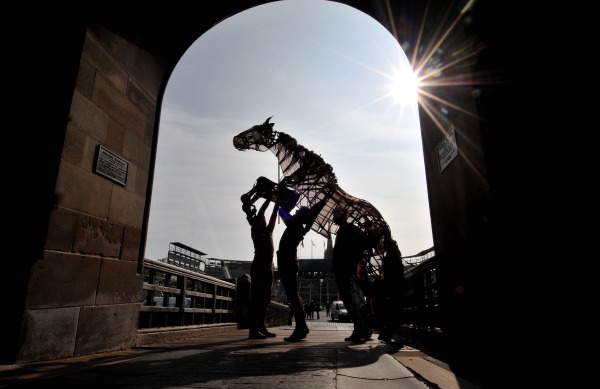 Joey then showed off his talents, walking, running and jumping to roars of approval, before eventually leaving the stage. The reason for Joey's sudden departure soon became apparent when the puppeteers who operate him, Shaun McKee (Head), Matt Tait (Heart) and Sam Clark (Hind) returned for a question and answer session with the school children in the audience.
The trio revealed that it took eight weeks rehearsing before they appeared in public but they are still perfecting their art, and also that the costume weighs 11 stones, without a rider.
Joey then returned to conduct a photo shoot with the delighted children from four Edinburgh Primary Schools, Tollcross, Wester Hailes, St Thomas's and Preston Street.
Festival Theatre Chief Executive Duncan Hendry said:- "We are thrilled to be hosting the only Scottish performances of War Horse and delighted that audiences north of the border now have a chance to see this highly acclaimed production in Scotland. We look forward to welcoming more shows of this stature in the future."
The production will appear at the Festival Theatre between Wednesday 22 January and Saturday 15 February 2014 as part of a 43 week tour of the UK.
Tickets costing £20-£50 are still available and can be booked via the Box Office T 0131 529 6000 or online at www.edtheatres.com
Photographs by www.jonsavagephotography.com/