With Hearts understandably hogging the headlines, The Edinburgh Reporter sends our congratulations to Thomas Enqvist for winning the inaugural Brodies Champions of Tennis Tournament and John McEnroe for winning the Legend's Trophy.
Congratulations also go the Scottish Men's hockey team for a double over England A, the Scotland rugby team for a win over Italy  and the Edinburgh Scotwaste Monarchs for their biggest home win of the season.
Football
After weeks of speculation, Hearts formally went into administration last week, and the accountancy firm BDO were appointed to take control of the financial affairs at the club.
So far, a  total of 14 non playing staff have been made redundant, and four players, two from the first team squad and two youngsters are expected to be released in the coming days.
In addition, the club's three directors – Roman Romanov, Sergejus Fedotovas and Vitalijus Vasiliauskas – have all lost their positions and been removed from the payroll.
Administration means that Hearts start next season on minus 15 points and failure to pay staff on time means that they are now banned from registering new players, therefore potential summer signing from Liverpool, Danny Wilson will now move elsewhere.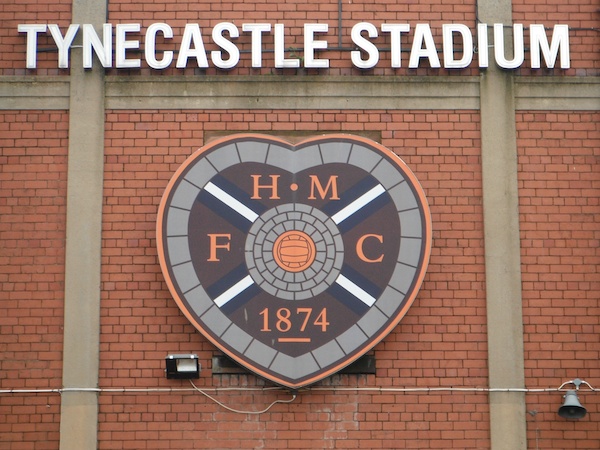 On Thursday, BDO issued a statement urging the 3000 fans who have not renewed their season tickets to do so otherwise there is a real possibility that the club would be unable to continue and would face liquidation. Media reports suggest that 500 did so within the first 24 hours.
First team players Jamie Macdonald, Ryan Stevenson and Jamie Hamill agreed to take a wage cut to remain at Tynecastle.
A number of groups are believed to be interested in buying the club, including the Foundation of Hearts who have already had talks with BDO.
Across the city, Hibs appointed former Raith Rovers and Millwall  manager Jimmy Nicholl as Pat Fenlon's number two, and also Dave Henderson as Head Physiotherapist,
Rod Petrie travelled to Wolverhampton and met chief executive Jez Moxey to discuss the future of Leigh Griffiths.
Hibs' Chairman, Rod Petrie, said, "I wanted to come to Wolverhampton to meet Jez face-to-face to impress upon him the desire of Hibernian to acquire the services of Leigh Griffiths on a permanent basis. We had a cordial meeting and I put firm proposals on the table. However, these have been rejected outright. Reluctantly, we have to conclude that there is nothing further that can be done at this time to prise the player away from Wolves."
Jez Moxey, Wolves Chief Executive, said, "As we have previously stated, we took up the option to extend Leigh's contract for season 2013-14, towards the end of April, and this was acknowledged in writing by the player. Our new Head Coach, Kenny Jackett, is looking forward to working with Leigh who has been such a sensation in Scottish football during his time with Hibernian.
"There is no offer which can be made at this time that will change our minds. Leigh will be returning to Molineux and will play his part in our pre-season friendly matches. More importantly, we want Leigh to score goals for Wolves in League 1, just as he has done for Hibernian in the Scottish Premier League, and hope he will help the team to success this coming season."
Both clubs agreed that the offer made by Hibs should remain confidential between the parties. There are no plans for any further meetings.
Hibs will find out their opponents in the Europa League qualifying round on Monday.
East of Scotland League
THE make-up of the East of Scotland League for next season will be decided this week after more than a third of its teams have moved to join to the newly-formed Lowland League.
Of the 26 clubs who started last season in the Premier League and First Division, 17 remain, and whilst Hibs B have joined, that only leave 18 teams which is considered too big for one league and too small for two.
Spartans, Gala Fairydean Rovers, Edinburgh City and Stirling University are all considering fielding a second team in the Seniors.
Women's Football
Hibs Ladies progressed to the next round of the Scottish Cup with an 11-0 win against Boroughmuir, whilst Spartans did likewise with a 7-2 win over Hearts.
Tennis
Eight top stars from the past arrived in the capital last week to take part in the Brodies Champions of Tennis tournament at the home of Edinburgh Accies in Stockbridge.
Top draw was former Wimbledon champion John McEnroe and he was joined by Tim Henman, Greg Rusedski, Mikael Pernfors, Mark Philippoussis, Thomas Enqvist, Carlos Moya, Goran Ivanisevic and Wayne Ferreira.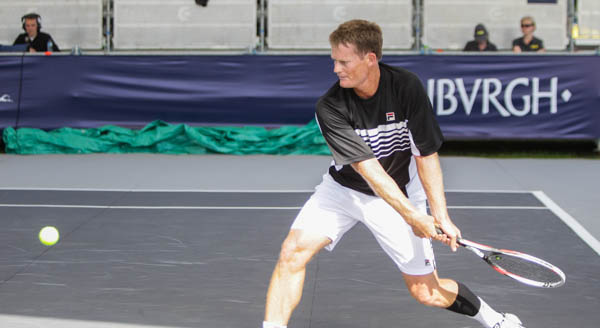 Thursday and Friday saw some fantastic play in the sunny conditions; however rain over the weekend disrupted the proceedings.
All the games were played in good spirit with plenty interaction with the crowd, and the players all took time to sign autographs and pose for photographs.
The tournament was won by Swede Thomas Enqvist whilst John McEnroe won the Legend's Trophy.
A full roundup of all the action is available elsewhere on the Edinburgh Reporter site.
Rugby by John Preece
Scotland managed to squeak home in South Africa in a rather terse encounter which would decide 3rd and 4th places in the four-way tournament.
Lacking the fight and determination shown against the host country the previous week, Scotland were forced to play at the Italian's snail's pace for much of the match.
And it was the Azzuri who were first on the board with a converted try after just two minutes of play. Scotland pulled this back and went ahead with a Laidlaw penalty, before pulling further ahead with another try. Italy came back with a penalty try on the half-hour mark and an exchange of penalties left the half time score at 20-20.
The second half opened with a penalty for each side, before a try score for Visser, but this was chalked off for a forward pass, giving the Italians further opportunity to draw ahead with a couple of penalties on the 57th and 67th minutes.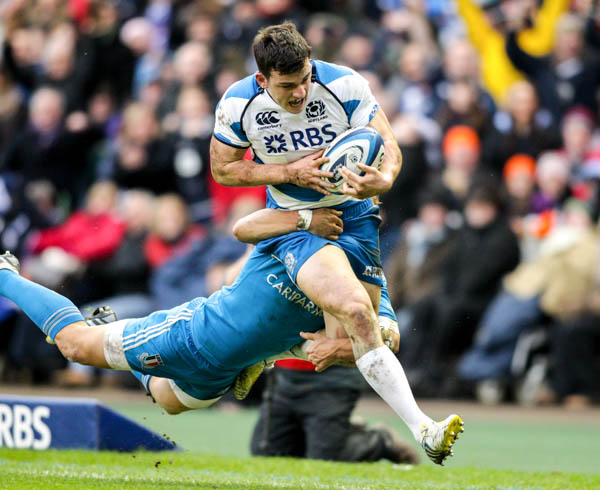 It was up to Strokosch to score an injury time try from a tap-penalty, which left Laidlaw with the conversion to win the match. This gave the Scots a 30-29 victory over the Italian side, but a performance riddled with mistakes and penalties left Scott Johnson with a bit of head-scratching to do to try and work out how to build consistency from match to match, something that he was quick to point out in both changing room and press conference
Photo by John Preece from 2013 Six Nations.
Speedway
The Edinburgh Scotwaste Monarchs turned in a great performance on Friday beating Workington 61-34 which was the biggest home victory of the season.
The Monarchs, starting with two 5-1s, were in control right away. Craig Cook scored another paid maximum, whilst teenager Max Fricke, turned in another fine performance.
Three wins from Claus Vissing  and Derek Sneddon was unbeaten in his first three rides, whilst Theo Pijper was excellent for most of the night, but crashed in heat 7 trying to squeeze inside Ashley Morris. Reserve guest James Sarjeant scored paid 5 and looks good enough for a Premier berth.
The return fixture at Workington was postponed due to the weather conditions.
Hockey
Scotland Senior Men beat England 'A' 2-0 at Peffermill on Saturday thanks to goals from Grove Menzieshill pairing Paul Martin and Gavin Byers.
The Scots got off to a bright start in the seventh minute when Martin rounded England 'A' goalkeeper Patrick Smith to slot the ball home for a 1-0 lead.
Scotland doubled their lead with a spectacular goal when Gavin Byers latched onto a long cross from Callum Duke to turn the ball past Smith in the 48th minute.
The following day, the Scots did the double over England winning 5-2 thanks to a double for Royal Penguins' Wei Adams and strikes from Paul Martin, Nick Parkes and Kenny Bain. David Beckett and Jonny Kinder were the goal-scorers for England 'A'.
Bowling
Pre-season favourites Craigentinny climbed to top spot in Division 1 of the Edinburgh Bowling League with a 7-2 home win over Maitland on Wednesday night.
All photographs by John Preece
http://www.photoboxgallery.com/jlp-photography