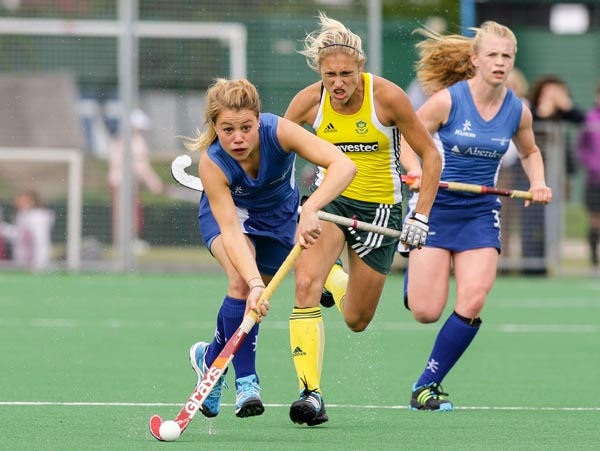 Scotland Senior Women will begin their preparations for the EuroHockey Nations Championship in Belgium this summer with five international matches at Peffermill, Edinburgh from 10-18 June.
Gordon Shepherd's side will play a single match against Ireland (10 June) before taking on South Africa in four encounters in the capital (13/15/16/18 June).
Shepherd has named a large squad of 27 players, who will be utilised at various points across the five matches. Four new caps have been selected to make their senior international debuts, including CALA Edinburgh's Amber McNeill, GHK's Maisie Morris and Edinburgh University pair Kirsten McIntosh and Louise Campbell.
"We haven't played together since February so our focus initially is to start building our performance levels in advance of the European Championships in August. It's a good time to play South Africa, particularly as they are preparing for the World League semi-finals, so they will present a good challenge for the squad. The games will be close and we know we can compete with the South Africans."
"We've got an excellent squad together and a good mixture of experienced and young players. We introduced twelve young players into the training squad in January and now four have been given the opportunity to earn their first cap at senior international level. They've all performed well in training and they'll get a chance to play in front of a home crowd and their families", said Shepherd.
The Dundonian has also been able to name Great Britain defender and Olympic Bronze Medallist Emily Maguire, who returns to the international fold following a break after the London 2012 Olympic Games last summer.
The Scots are also now in full-time training following the introduction of Athlete Performance Awards (APA) by sportscotland and this has provided a huge opportunity for Shepherd's players.
"The players have fully embraced the opportunity to train full-time and there is a good atmosphere", said Shepherd. "The players can now have far more contact time on the pitch and not have to worry about balancing their work commitments. They also have more time to recover after training and matches. This is massively important as we build towards the Europeans in August."
Scotland Senior Women: Nicki Cochrane, Sam Judge, Kirsten McIntosh, Nikki Kidd, Sarah Robertson, Louise Campbell (all Edinburgh University), Catriona Ralph, Holly Cram, Susan McGilveray, Ali Howie, Nicola Skrastin, Amy Gibson, Morag McLellan (all Milne Craig Clydesdale Western), Ali Bell, Linda Clement, Ailsa Wyllie, Leigh Fawcett (all Grove Menzieshill), Vikki Bunce, Becky Ward (both Dundee Wanderers), Amber McNeill, Amy Brodie (both CALA Edinburgh), Kareena Marshall (Giffnock), Becky Merchant (Surbiton HC), Maisie Morris (GHK), Emily Maguire (Reading HC), Aileen Davis (Clifton HC), Nikki Lloyd.