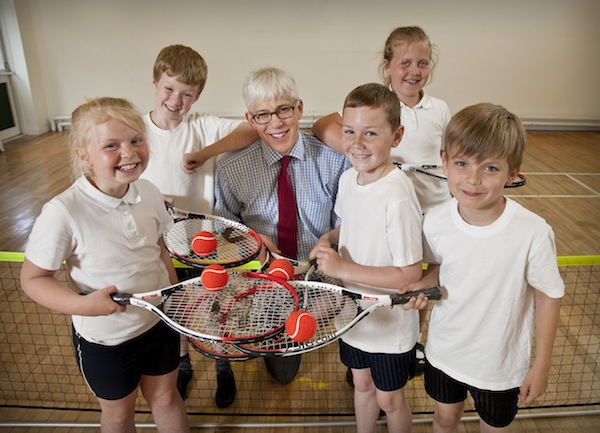 Law firm Brodies LLP has gifted new tennis equipment including 30 racquets, a portable net and balls to pupils at Ferryhill Primary School in Edinburgh to encourage more children to take up the sport, keep fit and have fun.
Julian Voge, head of the law firm's corporate and commercial department, presented the equipment to Stewart Crabb, head teacher at Ferryhill Primary School, and primary four pupils, who couldn't wait to put their tennis skills to the test. The school previously had to borrow tennis equipment from other schools and only some classes were able to play. Now all 250 pupils will have the opportunity to try out the sport.
Brodies is committed to making a difference to local communities as part of its sponsorship of the Brodies Champions of Tennis Tournament, which gets under way in Stockbridge on Thursday and will feature stars of the game including John McEnroe, Goran Ivanisevic, Mark Philippoussis, Carlos Moya and Tim Henman. Brodies has been a long-term sponsor of the Scottish Schools Swimming Association's events and the SSSA's Team Championships, which involve schools from Edinburgh and all over Scotland, take place today, 19 June, at Edinburgh's Royal Commonwealth Pool.
Stewart Crabb, Head Teacher of Ferryhill Primary School, said:- "We were very pleased to receive this generous donation of a tennis set from Brodies. The comprehensive set contains lots of equipment that has been very favourably received by the children and staff. In the past we borrowed sets from other schools but this donation means that all classes in school can be given the opportunity to learn ball and racquet skills at any time of year."
Julian Voge, Head of Corporate & Commercial at Brodies, said:- "Brodies is committed to encouraging Scotland's youngsters to become more active and to take up sport. I'm delighted that all pupils at Ferryhill will now get the chance to play tennis, keep fit and have fun."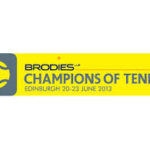 The Brodies Champions of Tennis, which runs from June 20-23 at Edinburgh Academicals FC, Portgower Place, will bring the ATP Champions Tour to Scotland for the first time. For more information, visit www.championsoftennis.com.
The Edinburgh Reporter will be bringing you match reports and photos from Raeburn Place over the next three days.
Photo caption L to R – Abby McIntyre, Kian Venters, Julian Voge, Lewis Cunningham, Emma Pietersen and Declan Venters.