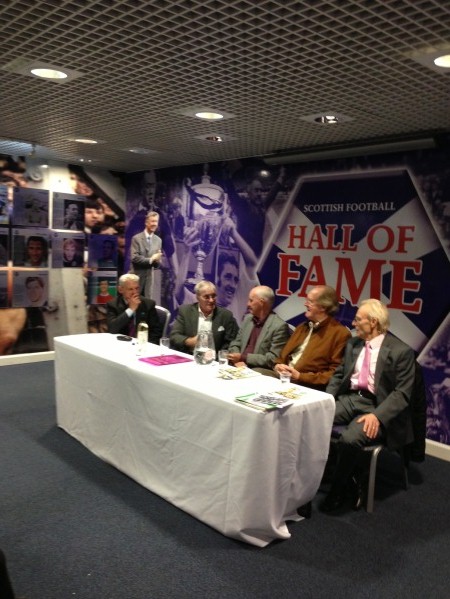 Football fans from the capital are in for a treat tonight as former Hibs and Scotland star Dave Gibson will be reminiscing about his time at Easter Road as well as signing copies of his book 'Gibbo – The Dave Gibson Story' at the Hibs Supporters Club in Sunnyside Place from 7.30pm.
The skilful midfielder returned to the country of his birth on Wednesday to launch his biography, and the Edinburgh Reporter caught up with Dave at the SFA Hall of Fame inside Hampden Park where he was joined by former Scotland team-mates Davie Holt, Bertie Auld, Ian Ure and Davie Wilson. In addition, a number of pals from his national service days turned up, and the stories flew thick and fast.
Dave told the Edinburgh Reporter: "I grew up in the mining village of  Winchburgh, not far from the great Willie Thornton who played for Rangers. He was an inspiration, but there have been a few good players to come from the village, such as John Gorman who played for Celtic and a promising youngster with long hair who played for Exeter City called Alan Devlin.
I was a Hearts fan, and idolised Willie Bauld, and actually played with him in a game for Edinburgh Select against Burnley which ended 7-4 for them. Three players including myself scored a hat-trick that night. I almost signed for Hearts, but the manager at the time Tommy Walker heard that I was Hearts daft and they tried to get me on the cheap. I was offered £4.00 per week, and Hibs offered me £9.00 so I signed for them, and made my debut a couple of months later playing alongside players who I had been shouting for the past few years such as Gordon Smith, Lawrie Reilly, Eddie Turnbull and Willie Ormond. That team was called the 'Famous Four and a half.' I can't remember much about the game apart from I ran about a lot. I then played alongside the great Joe Baker who was the fastest player I have ever seen He was a born goal scorer and when you passed the ball to him you never got it back. He had a special talent."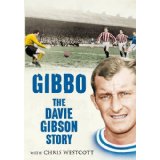 Dave was capped seven times for Scotland, and his first came in an infamous game against Austria in 1963 at Hampden Park which was abandoned with Scotland winning 4-1 after three visitors were sent off, one for spitting at the referee.
He also played (and scored) in an impressive 6-2 win against Spain in the Bernabeau Stadium, a result which would be unthinkable in today's climate. In all he scored three international goals, the other two coming against Wales and Finland.
Dave first made his name with Livingston United before joining Hibs in 1956 as a 17 year old. The slightly built youngster with the distinctive blond hair soon began to make a name for himself scoring an impressive ten goals in 23 reserve team outings.
During his six year tenure at Easter Road, Dave played 60 games, including two Inter City Fairs Cup semi-finals against Roma, and scored 10 goals.
His form with Hibs attracted the attention of Leicester City manager Matt Gillies, who had actually spotted Dave when he was in the army doing his national service.
A massive £40,000 cheque secured Dave's signature, and he went on to become a fans' favourite at Filbert Street, where he was the playmaker and creative force behind the great Leicester City team of the early sixties, which is still revered in the city.
As he was still doing national service when he signed, his appearances were restricted, and he eventually made his debut on 2 March 1962. The following season, Dave began to form a deadly partnership down the left-flank of Leicester's attack with Mike Stringfellow, and became a key fixture in the Foxes' side as they chased the league and cup double. With five games remaining, Leicester sat top of the table and were in the FA Cup Final against Manchester United, but they eventually fell short in both competitions, finishing fourth in the league whilst Manchester United won 3-1 at Wembley, thanks to goals from Denis Law and David Herd for Matt Busby's first trophy since the Munich air disaster.
Dave then helped Leicester to victory in the 1964 League Cup final scoring a goal in both legs of the final against Stoke City. The first leg ended in a 1-1 draw thanks mainly to Leicester's keeper Gordon Banks, and City won the second leg 3-2. Dave's goal was a near post bullet header from a Howard Reilly corner.
He also helped Leicester to the 1965 League Cup final against Chelsea. The London team won the first leg 3-2 at Filbert Street and held on for a 0-0 draw at Stamford Bridge to win the trophy.
In 1969, Dave helped Leicester City to the FA Cup Final at Wembley, but a Neil Young goal midway through the first half gave Manchester City the victory.
Dave joined Aston Villa in 1970 where he played 19 times over two seasons, scoring one goal. He then ended his career at Exeter City for whom he played 71 times, scoring three goals, before hanging his boots up and becoming a postman. He later ran a care home in Leicestershire, and now lives in Dorset.
Co-writer Chris Westcott told the Edinburgh Reporter: "I have written five other books about football players and I knew Dave through Derek Dougan. Dave is a legend at Leicester City, and many of their fans believe that he was the best ever player to play for the club. This year is the 50th anniversary of Leicester's FA Cup Final against Manchester United and also of the infamous Scotland v Austria 'friendly' which was abandoned with Scotland leading 4-1 after three Austria players were sent off. Dave made his international debut that night so we were keen to get the book out to commemorate both games. Dave is a great character with a host of great memories about the game that modern day players wouldn't believe."
Last word goes to Dave who hopes that his book will be an inspiration for youngsters to make their own mark in the game that he still loves: "The book is really about a wee boy from a miners row who made it to the top as a professional footballer. There were no TVs, Computers or ipads when I was growing up so we spent all out time practicing out football skills with a 'tanner ba.' This has been a special day for me to be united with my team-mates and army pals at Hampden Park, 50 years after making my Scotland debut. I remember it was a proud day for me and my family as 90,000 Scotland fans cheered us onto the pitch and the pipe band played 'Scotland the Brave' and I remember thinking that it doesn't get any better than this."