Firefighters from the Scottish Fire and Rescue Service (SFRS) took part in a marine firefighting multi-agency exercise yesterday morning at BP Hound Point Terminal at South Queensferry .
The exercise involved a pretend explosion being heard on board a tanker and a report of a possible fire along with reports of  people missing on board the vessel.
Senior SFRS officers from the city of Edinburgh and crews from Crewe Toll, McDonald Road and Liberton fire stations joined forces with representatives from BP Dalmeny/Hound Point, Forth Ports PLC, Targe Towing Ltd and Smit International Ltd to test their emergency plans for dealing with such a scenario.
Group Manager Andrew Girrity from the Scottish Fire and Rescue Service said:- "The main objective for us is to test how robust our emergency plans are and how we would work with partner agencies in the event of a fire on a ship."
 "Our primary concerns were that to happen, would be to protect and minimise the risk to the public, personnel on site at Hound Point, responding emergency crews from all blue light services and to ensure the safety and security of the site whilst ensuring any risks to the environment and plant are managed safely."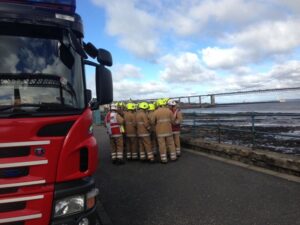 "Each of the agencies involved has detailed emergency plans which are regularly exercised to ensure that if an incident did occur we would be in the best position to respond and work together in challenging circumstances for a safe outcome."
"These types of training events allow us to test our command and control systems as well as the role of the incident commander and firefighting crews, equipment and procedures for dealing with a stricken vessel. It will involve practising the manoeuvring of tugs for the master of the vessel and testing communication links and coordination between the SFRS, Forth Ports, BP Dalmeny Control Room, Hound Point Marine Terminal and the Hound Point tugs."
Pictures: Ruth MacLeod