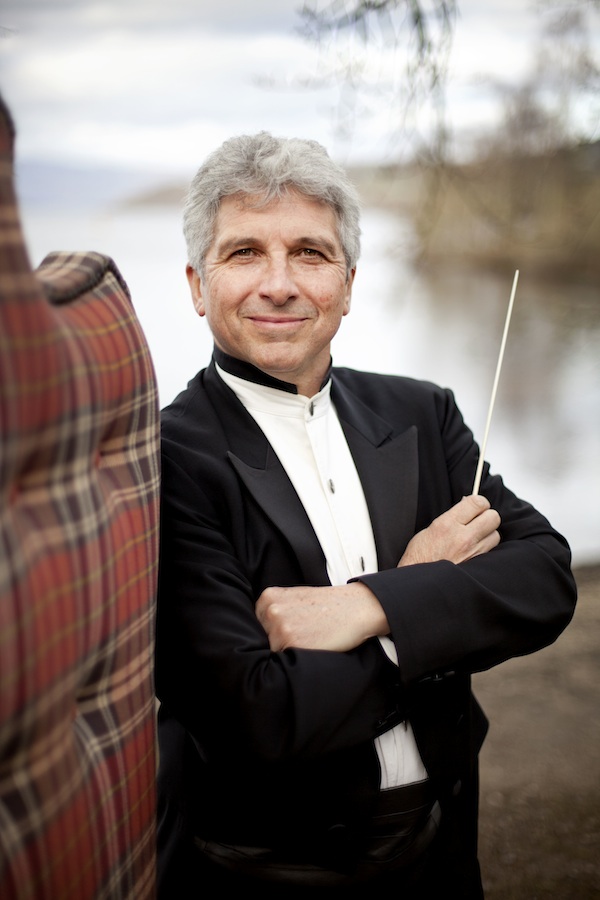 The Royal Scottish National Orchestra (RSNO) has announced its second Season with Music Director Peter Oundjian, following a critically-acclaimed start to the British-Canadian's tenure at the helm. The RSNO will this year perform works ranging from The Planets to pairing up with Phil Cunningham and Aly Bain to celebrate St Andrew's Day, and combining with Dougie McLean to perform Caledonia (both of these in Glasgow). This Christmas will be feted with The Snowman and there will be Sunday afternoon chamber music in Edinburgh at the Dovecot.
There are tickets ranging from Under 16 freebies to under 26 £5 tickets, as well as £5 seats for the unemployed and discounts for groups.
The Edinburgh Reporter was delighted to meet with Peter Oundjian in Glasgow for a quick word before he scooted back to the afternoon rehearsal, and to have the opportunity to interview him about the 2013-14 programme.
The RSNO are performing at the Usher Hall tonight.

But what about the rest of the year? Well, if you want to learn more about the masterpieces of Vaughan Williams and Beethoven then Naked Classics might be a good start. Projections and on-stage interviews will be used to explain the stories behind the pieces, and of course the second half allows you to enjoy the music itself.
Tickets sell fast and you can buy them on the RSNO website here.
In the coming orchestral year, the RSNO team will build on the successes of 2012/13 by showcasing the continuing development of Scotland's national orchestra and further widening access to live orchestral music, including increasing the total number of Season programmes from 17 to 20 in Edinburgh and Glasgow, and upping its commitment to providing orchestral music to Scotland's medium-sized venues. The RSNO will also expand its popular and crossover programmes in Glasgow, and continue its much-loved Naked Classics and Chamber Concert Series.
RSNO audiences have shown their appreciation for the new guard, with Peter's first three concerts as Music Director virtually sold out in Edinburgh and Glasgow. The RSNO concerts at Kelvingrove Museum and Art Gallery were also sell-out occasions in 2012, the RSNO Christmas Concerts in Aberdeen and Dundee sold out and were close to sell-out in Edinburgh and Glasgow. Even the more adventurous presentations have been met with consistently large attendances.

RSNO Music Director Peter Oundjian said: "I have been overwhelmed by the warmth with which both my and Thomas' arrival has been received. Speaking personally, in the short time I have been in post we have achieved a great deal; some fantastic performances in the concert halls across Scotland, exciting recording projects and a memorable tour of China. Going forward, I am proud to announce our ambitious new Season, which I hope will appeal to our supportive and growing audiences."

RSNO Chief Executive Michael Elliott:- "We have been blessed with a tremendous start to Peter and Thomas' first RSNO seasons as part of the team. The last 12 months marked the start of a new era for this organisation, symbolised by the start of the construction of our new home in the centre of Glasgow. In the coming orchestral year we have a strong season, with more concerts in Edinburgh and Glasgow, a greater commitment to bringing live orchestral music at medium-sized venues across Scotland, increasing our presentation of cross-genre programmes to attract new audiences, and the continued forging of musical partnerships."

RSNO Leader Maya Iwabuchi:-"In my short time with the RSNO, I have already witnessed massive changes within the orchestra and its management.  I am truly heartened to be surrounded by colleagues who are working constantly to expand and maintain the artistic trajectory of the organisation in order to enhance the culture of Scotland and beyond."

Peter Oundjian's opening programme of his second RSNO Season features former Scottish Orchestra Trombonist Gustav Holst's The Planets paired with the UK première of James MacMillan's Piano Concerto No3 with soloist Jean-Yves Thibaudet. Peter appears with the Orchestra the following week, with a programme including Dvorak's Symphony No7 and Shostakovich's Cello Concerto No1 with soloist Sol Gabetta. The first two programmes of the Season commence with works by Benjamin Britten (Simple Symphony, Young Person's Guide to the Orchestra), celebrating the 100th anniversary of the British composer's birth, and Peter returns to Scotland in November to conduct the epic War Requiem, in the week of the anniversary and in the 120thanniversary year of the birth of poet Wilfred Owen, nine of whose poems are referenced in this major work. Peter's further programme highlights include Rachmaninov's Symphonic Dances, Walton's Symphony No1, Richard Strauss' Ein Heldenleben, Beethoven's Symphony No7 and concluding the Season with Mahler's vast Symphony No8, one of the largest-scale choral works in the classical concert repertoire involving huge orchestra, RSNO Chorus and Junior Chorus, guest chorus and a line-up of talented soloists from across the Commonwealth.
RSNO Principal Guest Conductor Thomas Søndergård also commences his second year as a member of the Artistic Team. Thomas' first programme presents Haydn's Symphony No99 and Brahms' Symphony No4, Beethoven Five in Dundee and also as part of the Usher Hall's Centenary celebrations in March 2014. Messaien's Turangalîla-Symphonie features later in the Season and Thomas concludes his second year with the Orchestra with a programme including Brett Dean's Dispersal and Dvořák's Symphony No9 From the New World.

Guest Conductors
The RSNO welcomes new faces to the podium: Alexander Shelley, Jonathan Cohen, Richard Kaufman, Susanna Mälkki,  Santtu-Matias Rouvali and Baldur Brönnimann, and heralds the return of Lawrence Renes, Yan Pascal Tortelier, Kristjan Järvi, Rumon Gamba, Hannu Lintu, John Logan and Christopher Bell.
Guest Soloists
Fans of the classical repertoire featuring piano are well catered for in the coming year. French pianist Jean-Yves Thibaudet plays the UK première of James MacMillan's Third Piano Concerto; Diapason D'Or winner, Croatian musical polymath Dejan Lazić returns for performances of Mendelssohn's Piano Concerto No1; Lise de la Salle makes her RSNO début, playing Rachmaninov Piano Concerto No1; British institution John Lill celebrates his 70thbirthday with the Orchestra, performing Brahms' First Piano Concerto, a work he last played with the RSNO in 1995; increasingly frequent RSNO collaborator Nikolai Lugansky rejoins for Beethoven's Emperor Concerto;  Grammy Award-winning US pianist Richard Goode plays Mozart's Piano Concerto No17 K453, 2009 London International Piano Competition winner Behzod Abduraimov performs Tchaikovsky's First Piano Concerto; Terrence Wilson returns to Scotland for Gershwin's Rhapsody In Blue; Jean–Frédéric Neuburger (piano) and Jacques Tchamkerten (ondes martenot) join the Orchestra for Messiaen's Turangalîla–Symphonie; and Ingrid Fliter returns to Scotland to play Beethoven's Fourth Piano Concerto.
For aficionados of string soloists,  the RSNO invites Argentinian cellist Sol Gabetta to perform Shostakovich's Cello Concerto No1; another RSNO favourite, home-grown sensation Nicola Benedetti, takes to the front of the stage, joined by her partner, cellist Leonard Elschenbroich, for Brahms' Double Concerto; Royal Academy of Music professor Jack Liebeck plays Prokofiev's Violin Concerto No1; Norwegian virtuoso Vilde Frang takes to the platform to perform Britten's Violin Concerto No1; enigmatic German soloist Augustin Hadelich presents Adés' Violin Concerto Concentric Paths; and Anoushka Shankar plays her father Ravi Shankar's Raga-Mala (Sitar Concerto No2).
RSNO Principal Clarinet John Cushing emerges from the ranks to perform a work dedicated to him by Scotland's greatest living composer, James MacMillan's Ninian. RSNO Principal Flute Katherine Bryan also assumes the role of soloist in the coming orchestral year, for Nielsen's Flute Concerto. A wealth of vocal talent appears with the Orchestra in 2013:14, guest artists including Susan Gritton, Jeffrey Francis, Russell Braun, Tim Mead, Benjamin Hulett, Neal Davies, Kishani Jayasinghe, Jesús León, Erin Wall , Elizabeth Llewellyn, Sarah Tynan, Caitlin Hulcup, Susan Platts, Simon O'Neill, Luthando Qave and Jonathan Lemalu.
Naked Classics
The investigative series which explores key works in the symphonic repertoire is now in its seventh year and last Season it experienced a significant increase in average attendance. Paul Rissmann continues to unveil the secrets behind key orchestral works, this coming year examining Vaughan Williams' Symphony No5 and Beethoven's Symphony No5.
Cross-Genre Concerts
Since their inception, the RSNO's St Andrew's Concerts, Festive Concerts and Valentine's Day celebrations have been popular with Scottish audiences. In Glasgow for 2013:14, the RSNO presents three additional programmes tailored to appeal to a wide range of tastes. In October, and in partnership with multi-arts festival Glasgay!, the Orchestra will perform the soundtrack to The Wizard of Oz, conducted by Christopher Bell, accompanying the film on the big screen.  In March, the musicians will explore the music of one of the most recognisable composers for the silver screen, with The Music of John Williams, and in June Scottish folk hero Dougie MacLean takes centre stage for an evening of his new and more familiar works.

The RSNO Chamber Series
The RSNO Chamber Series builds on its success for its fourth year at St Mary's Cathedral, Glasgow and Dovecot, Edinburgh. Two chamber events will also be hosted at Glasgow's Cottier's Theatre, as part of the city's West End Festival and the Cottier Chamber Project.  Concerts vary from chamber strings performances with Italian theme to an intimate evening of music for viola, harp and flute.

Scottish International Piano Competition
From 2014 the RSNO will be the official orchestra for the final concert of the Scottish International Piano Competition. Details of the biannual event, the next to be held at the Glasgow Royal Concert Hall in June 2014, will be announced shortly.

Under 16s Go Free!/Under 26 Ticket
Last year the RSNO simplified its youth access programmes – already one of the most ambitious initiatives to attract younger audiences to live orchestral music – making it easier to attend RSNO-promoted performances, which has seen a peak in young attenders to RSNO concerts. On average concert-goers under the age of 26 now account for 13% of the audience, a 2% increase on the previous Season.
Accompanied under 16s can attend the Orchestra's concerts for free (Christmas concerts 50% off) and receive free programmes and those under 26 can purchase tickets for just £5.00.

RSNO Partnerships
The RSNO is supported by the Scottish Government and local authorities in Scotland.
The RSNO is committed to developing creative, dynamic, long-term partnerships with Scotland's corporate sector. The organisation continues to strengthen its reputation for delivering rewarding programmes for its corporate partners, helping to build profile, serve local communities, reward staff and generate exciting stories.
Scotland's national orchestra welcomed Barclays as a key partner in 2012 and look forward to continuing the association in future.
The RSNO's partnership with TOTAL E&P UK Limited is now in its tenth year, testimony to the mutual benefits derived from the alliance. Since the departure of former RSNO Music Director Stéphane Denève and the conclusion of the TOTAL Denève series, the partnership has evolved to support community projects in the North-East of Scotland, focusing on the RSNO's Astar CD for new born babies and its associated early years programme for children and families.
The Orchestra's partnership with ScotRail, the RSNO's Official Transport Provider, continues to provide vital transport for RSNO musicians and staff across Scotland, promote sustainable travel to a wide audience, and opens doors for ScotRail staff to experience live classical music with their national orchestra.
The RSNO's successful partnership with The Miller Group enters its fourth year with the development of its pioneering programme of musical activities, working with Children's Hospice Association Scotland (CHAS) and children and families in Rachel House children's hospice in Fife.
The RSNO welcomes the fourth year of the Orchestra's association with La Bonne Auberge, a partnership which supports Children's Classic Concerts.
The RSNO will also continue its successful relationship with Capital Document Solutions, a partnership now in its sixth year, which presents creative marketing opportunities for both partners.
The RSNO would like to thank all of its sponsors, corporate donors, corporate partners and media partners who make a crucial contribution to the work of the Orchestra: TOTAL E&P UK Limited, Capital Solutions, Barclays, The Weir Group, La Bonne Auberge, The Courier, The Miller Group, Shell UK Limited, Cameron House on Loch Lomond, Italian Institute, Prestonfield, Valvona & Crolla Glasgow Airport,  ScotRail, Loganair, Park's Motor Group, Douglas Park BMW, Classic FM, BBC Radio 3, HSBC, First Rule Investment Consultancy Ltd, Gallagher Heath, Smart Graphics, Scots Magazine, Aberdeen & Grampian Chamber of Commerce, Glasgow Chamber of Commerce, Edinburgh Chamber of Commerce, The Franco-Scottish Business Club, The Scottish Council for Development & Industry, Valvona & Crolla.
For more information on the RSNO, including how to book tickets, go to www.rsno.org.uk. You can keep up-to-date with the Orchestra's movements on Twitter (@rsno) and on Facebook.