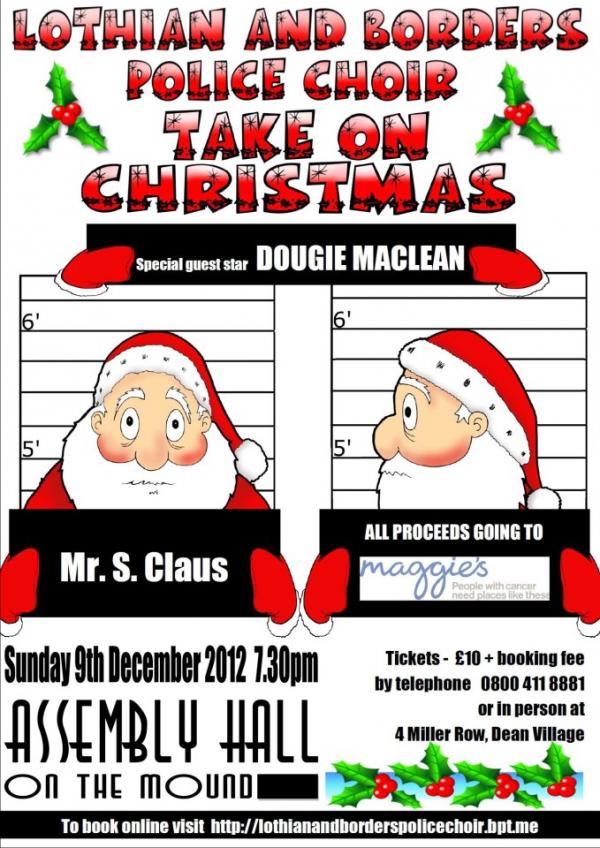 On Sunday, Scottish singer/songwriter Dougie McLean will team up with Lothian and Borders Police Choir to perform a special concert at the Assembly Hall on the Mound, with all proceeds going to Maggie's, the cancer care centres which offer assistance and support for people living with cancer.
Choir Manager Andrew Russel lives in Peebles and works as a police officer in Edinburgh. His earliest musical memory is making an awful din on the piano at an Edinburgh nursery; resulting in him starting piano lessons aged 4. After gaining some experience of choir directing, Andrew recognised that choral singing reached beyond the sacred repertoire and advertised within the police service for a new choir. Lothian and Borders Police Choir was born with a bang, staging its first public concert that Christmas.
He also directs InChorus, a 115-strong community choir from Peebles, as well as Tayside Police Choir, and the three choirs collaborate in larger events and projects.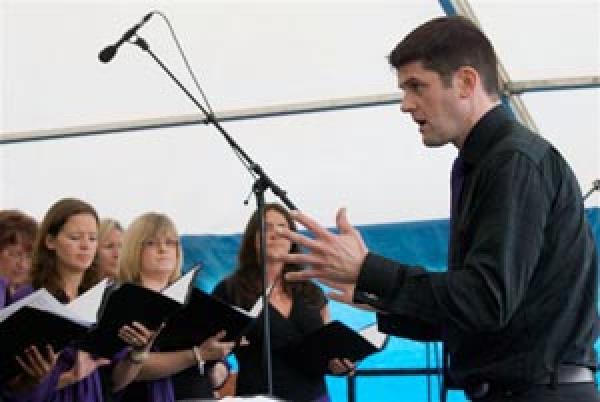 Andrew told The Edinburgh Reporter:- "Four years on, the Police Choir is possibly the most exciting choir in Edinburgh. Our material is contemporary and exciting and that marks us out as different from many others. This concert will be something really special, with an exciting range of songs that have considerable punch and entertainment value, as well as some joint songs with renowned Scottish singer Dougie MacLean. It's a Christmas charity concert, but we don't restrict ourselves to just seasonal songs. We'll have a good variety of entertaining performances from our wide repertoire, some different and upbeat Christmas songs and one or two carols for everyone to join in with. Think Bohemian Rhapsody, Bridge Over Troubled Water, Shine, Nella Fantasia, Abba, Lean on Me, Highland Cathedral, Africa and you've got the idea.
"I'm delighted that Dougie MacLean is joining us as our special guest. We've twice performed with Dougie at his Perthshire Amber Festival and he's returning the favour. He's a great favourite with audiences, and we'll provide backing vocals for some of his songs, including his iconic 'Caledonia' which is now known worldwide. We have a great relationship with Dougie and the arrangements of his songs to include the choir are a unique.
"The choir rehearses on a Sunday evening at police headquarters, and although we work hard we also make sure it's fun and inclusive too. We have a great deal planned for 2013 and 2014, including a huge performance next summer, involvement in the Commonwealth Games in 2014 and there's an exciting foreign trip coming up too. We're good at the big stuff – in 2011 we went to New York to represent Scotland at the 10th anniversary of 9/11, which was a trip none of us will forget. We're recruiting in the New Year, and anyone interested in joining us should email the Choir Manager as soon as possible on lbpchoir2@gmail.com."
Dougie MacLean said:- "I love working with this choir, it's just brilliant fun to rehearse and perform my songs with Andrew and these 50 enthusiastic and talented singers and they're really good sports when I surprise them with an extra chorus or two. Maggie's is a fantastic cause to contribute to, and I'm delighted to be a part of it."
The first Maggie's Centre opened in Edinburgh in 1996 and there are now 14 Centres offering programmes of support: Edinburgh, Glasgow Gatehouse, Glasgow Gartnavel, Dundee, Highlands, Fife, West London, Cheltenham, Nottingham, South West Wales, Cambridge, Oxford, Lanarkshire and Hong Kong. In 2011, Maggie's Centres across the UK received more than 100,000 visits.
Maggie's offers free emotional, practical and social support to people with cancer and their families and friends, and is there for people at any stage of any type of cancer and no appointments are necessary. The Edinburgh offers a programme of support which includes nutrition workshops, one-to-one sessions with a clinical psychologist, benefits advice, tai chi and relaxation.
Maggie's Edinburgh Community Fundraiser Mark Cooper told The Edinburgh Reporter: "We are delighted that the Lothian and Borders Police Choir have decided to hold their Christmas Concert this year for Maggie's Edinburgh. As always it will be a tremendous event and a fantastic way to get into the festive spirit.
"Of course everyone at Maggie's Edinburgh is hugely appreciative of the support shown by the choir and the funds raised will help greatly in making sure we can continue to run our unique programme of support at Maggie's Edinburgh for people with cancer, their friends and families."
Anyone wishing to purchase tickets can do so by visiting http://lothianandborderspolicechoir.bpt.me or by calling 0800 411 8881