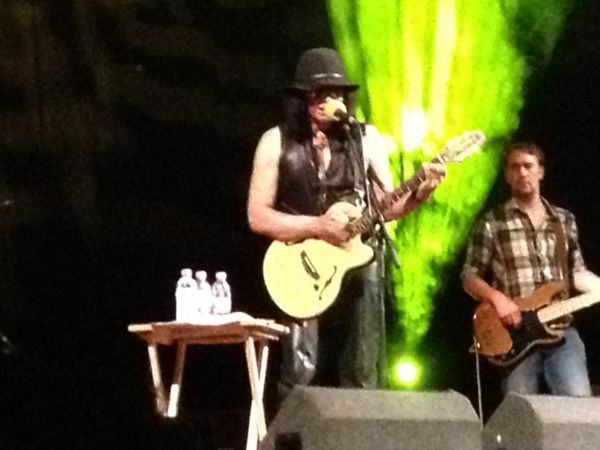 It seems fitting that the American septuagenarian should play Edinburgh's Usher Hall, the same stage that The Rolling Stones played a good while back, on the same night that they were reforming in London, with an average age of 68.
The fact that Rodriguez is 70 was not lost on his audience,but neither was the fact that his individual voice remains all that it ever was.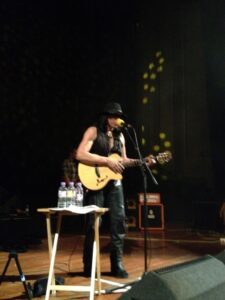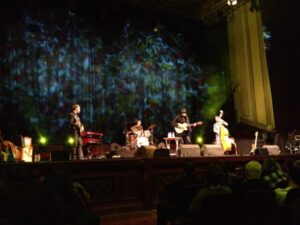 There were a couple of surprises in Lothian Road last night. The first was that so many others knew of this enigmatic singer-songwriter from Deerborn. The venue was 85% full which was immensely pleasing to The Reporter, while at the same time a little baffling. This is the man who has only ever made two records, or three if you count the newly released soundtrack from the award-winning 2012 documentary, Searching for Sugar Man, but which is a repeat of his material rather than anything new. It was from the film that we had first encountered the wonderful voice and lyrics, as well as the story of his rise to a little fame swiftly followed by a return to normal life. A bit of a rags to riches tale? Not really, as he never has appeared to make it big in the money stakes. Many questions about the fate of any earnings were left unanswered by the film where he is observed living in the same house he had always lived in, apparently untouched by the trappings of rockstar living.
The second surprise of the evening was that his three score years and ten have left his unique vocal talents undiminished. Sure, he maybe needed a little help to get to the front of the stage but, once there he had Edinburgh in the palm of his hand, with songs of such character as I Wonder, I Think of You and Sugar Man. The sound could perhaps have had less bass, but his singing and guitar playing have all the hallmarks of someone who has played and practised for many a long year. Except that he had to revert to manual labour in between times to make a living, rather than touring worldwide as he does now.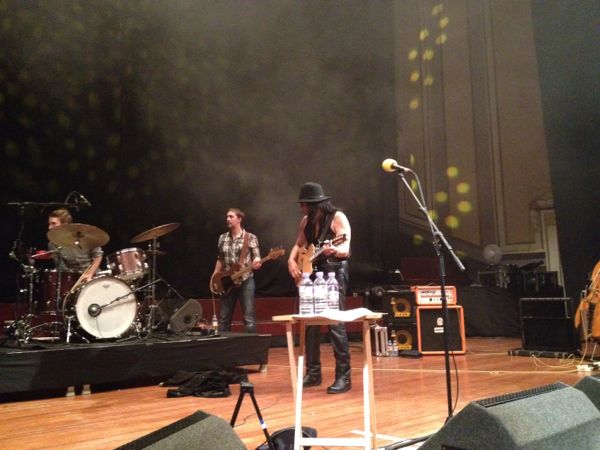 The support band had to be told which song he would play next by slightly curious means. He appeared to play the intro for the second lead guitarist "off mike" who then told the keyboard player, bass guitarist and drummer what they were moving on to next. But, far from an amateur feel this was clearly just how Rodriguez does it. And the audience loved it, despite the initial silences between numbers, which was expectant rather than awkward.
The encore material said it all. Firstly he gave Elvis's Blue Suede Shoes a real dance around the floor, and then used his own similarity to Dylan to great effect in Like a Rolling Stone, by which time most of the audience were on their feet enjoying the encore they had so vocally demanded.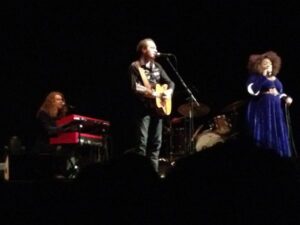 The band who played before Rodriguez took to the stage (and two of whom played with him after that)  have to be given special mention as one to watch. Phantom Limb hail from Bristol. They were three on stage in Edinburgh, keyboards, a guitarist who bears more than a passing resemblance to a young Johnny Cash and a female lead singer with a real and rare talent What a find they are! Off to find their CDs right now…
Rodriguez is playing only a handful of concerts in Britain He started in London, and will play Dublin's Buton Factory later this week followed by Belfast and Bristol. So just in case you missed what might be a once in a lifetime experience you may still be able to catch him.
In case you can't here is a taste of what you missed
Can we also take this opportunity to mention something about the council-run Usher Hall that we find profoundly irritating? Being overcharged for drinks somewhere in the city centre is almost normal, but to be charged £5 for a lonely measure of whisky in the bottom of a plastic glass without as much as an ice cube to keep it company is simply too much.