Our free Photojournalism training evening – Picardy Place roundabout – Get your sandbags here – Santa Cruises in December – St Andrew's Day celebrations
We are running a free photojournalism session next Wednesday 5 December 2012 from 6-9pm. If you have already sent an email to us to book your place then do not send us another one but if you would like to book a place now there are a few left. So please email theedinburghreporter@gmail.com
The event will be held at the ESPC showroom at 85 George Street and you may arrive anytime from 5.30 onwards. We look forward to meeting you!
More details of this event can be read here.
***
The revamped Picardy Place Roundabout has been described as a 'cyclist blender' by an urban planner at Heriot-Watt according to cycling website road cc There is an opportunity on Monday to drop into Macdonald Road Library to have a look at the plans. Here is the email from The City of Edinburgh Council which gives you all the information you might need:-
On 31 July 2012, the Council's Finance and Resource Committee agreed a budget of £5.5 million to upgrade roads and pavements and carry out a range of environmental improvements along Constitution Street, Leith Walk and Picardy Place.

Preliminary design ready for consultation

Based on stakeholder feedback from a range of previous consultations (carried out by the Council and by community organisations), a preliminary design for these streets has now been developed for consultation.

The preliminary design and a survey on the proposals will be available online from Saturday 24 November 2012, at www.edinburgh.gov.uk/leithimprovements . Hard copies will also be available for viewing at McDonald Road and Leith Libraries.

Key elements of the preliminary design

An integral element of the works will be to resurface roads and tidy up and even out pavements. There are also a number of additional elements that are proposed which will be central to the consultation survey. These include:

Improvements for pedestrians – proposals to make junctions at Kirkgate, Annandale and Baltic Street easier and safer to cross, proposals for a number of new islands in the centre of Leith Walk, and resurfacing the raised road areas at the side streets.

Improvements for cyclists – proposals for a combination of cycle lanes and segregated cycle ways at Picardy Place and London Road roundabouts, reducing the number of traffic lanes on the roundabout approaches and addition of advanced stop lines at signalled junctions.

Improving the appearance of the streets by replacing Leith Walk pavements with new grey slabs, relocating large domestic waste bins into road lay-bys and removing unnecessary signage; we will also seek people's views on additional planting.

Consultation – your chance to have your say

Survey: We would like as many people as possible to take part in the survey which will be available online from Saturday 24 November 2012 to Sunday 13 January 2013, from www.edinburgh.gov.uk/leithimprovements ; or in hard copy at McDonald Road and Leith Libraries or by phoning 0131 529 7061.

Drop in Event: Officers will be in attendance at a drop in event to discuss the preliminary designs and gather people's views at McDonald Road Library on Monday 3 December, from 10am to 8pm.

Your feedback will help us develop a final design that will balance the range of needs of those who use these streets. The final design will be reported to the Transport and Environment Committee on 19 March 2013.
***
A new initiative is being launched today to help Edinburgh residents protect their homes from flood damage.
The City of Edinburgh Council and Lothian and Borders Fire and Rescue Service have joined forces to encourage people to be prepared for floods. Rather than waiting for heavy rainfall, residents who are concerned about potential flooding are being offered free sandbags now, to help protect their properties.
Sandbags are now available to collect from specially built storage sheds at the following locations:
Tollcross Fire Station – 6 West Tollcross EH3 9QN
Crewe Toll Fire Station – 223 Telford Road EH4 2PW
Sighthill Fire Station – Calder Road EH11 4AT
Liberton Fire Station – 19 Kirk Brae EH16 6TS
Newcraighall Fire Station – 90 Newcraighall Road EH21 8QS
Marionville Fire Station – 51 Marionville Drive EH7 6BH
South Queensferry Fire Station – Ferryburn, Rosebery Avenue EH30 9QS
Powderhall Depot – 165 Broughton Road EH7 4LG
***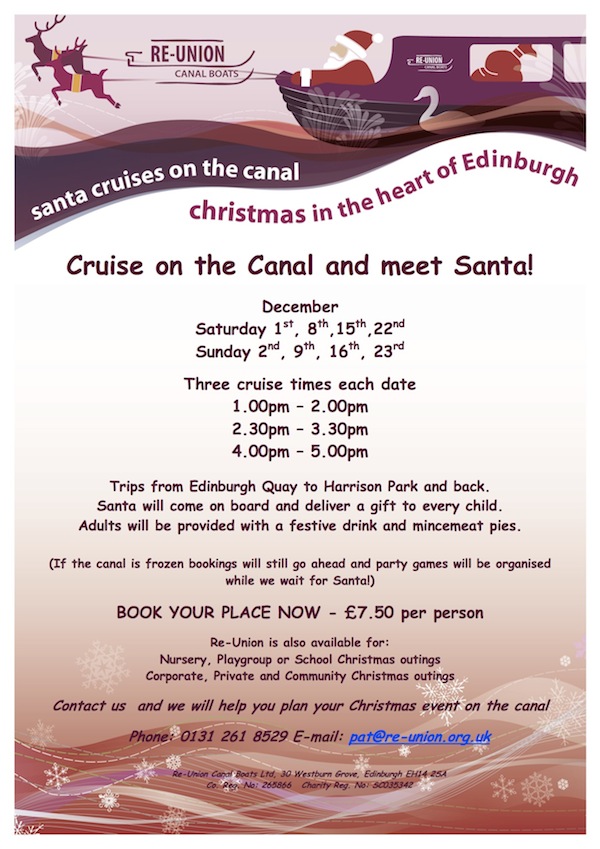 ***
Today is St Andrew's Day. Some government buildings may be closed today, although the rest of us are carrying on as normal. There are many things going on in the city to mark our patron saint's day.
You may like to read the article about St Andrew's Day in The Scotsman and why it is worth celebrating by Lady Susan Rice the managing director of Lloyds Banking Group Scotland. Full of comparisons to her native USA where they celebrate Thanksgiving in November with a vengeance. (The Reporter enjoyed  a full turkey dinner last Thursday in Boston which is regarded as the home of Thanksgiving.)
Later this afternoon Edinburgh Castle Esplanade will burst into life for a spectacular celebration of St Andrew's Day, with 'Carnival at the Castle', produced in association with Scotland's Winter Festivals.  The spectacle will tell the show of how St. Andrew came to be the patron saint of Scotland and will include an array of theatre, dance, music, projections and illuminations, followed by a short firework display.
We have a list of other things to do to help you celebrate St Andrew's Day over here.