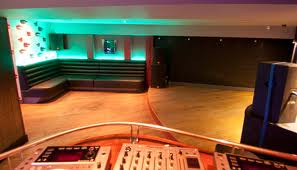 Now and again as an Edinburgh resident, you come across many things that still surprise you. Well a cracking little surprise was the function suite in The Newsroom at the top of Leith Street.
I had quite a few friends coming to the capital for a long weekend, and we wanted to havee a private area where we could get a band in to play and have the space to have a good night. I asked local band, The Asps, if they would play and, when they agreed, I embarked on a journey to find a room to house us all.
After looking at a few places I was beginning to lose heart as some places were very expensive and some were already booked. I went onto the internet and just  ran a search for "function rooms in Edinburgh". When I went through some of the places it listed, one of these was The Newsroom. I clicked on the pictures and realised this may be the perfect place.  It turns out it was.  The room is a great area to have a get together, with a small stage, a ready-made great p.a system already in place and separate bar it was a brilliant room to host an event.
I must also thank Lewis, the manager, and his staff who were excellent all night long and made sure things were going smoothly even though the rest of The Newsroom was very busy.
The Newsroom function suite is in my opinion a fantastic hidden gem in Edinburgh.