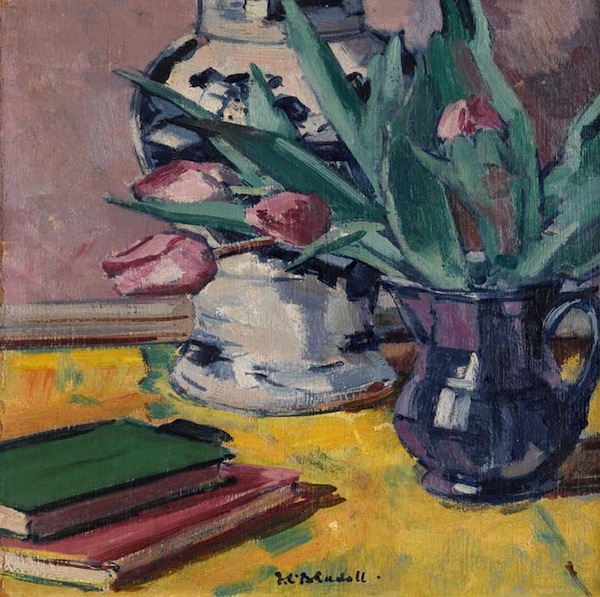 Lyon & Turnbull Summer Sales Reach Record Total of £2.1 million
The summer season of sales at Lyon & Turnbull drew to a close last week with a record total of £2.16 million. This included the contents of the New York home of the late Donald L. Taffner, iconic independent television producer and his wife Eleanor B. Taffner, the largest single private collection of furniture, drawings and paintings by Charles Rennie Mackintosh, sold at Lyon & Turnbull on 7th September 2012 for £1.3 million.
In late August a series of three sales with a Scottish theme including Scottish Silver, the iconic Scottish Wemys ware pottery, Scottish Contemporary Paintings and Books made a total of £862,000. Paul Roberts Vice Chairman of Lyon & Turnbull said "This is a fantastic result and demonstrates that Lyon & Turnbull is the leading auction house in Scotland. We are increasingly being seen as the place to sell 'Collections' after the success of  Old Battersea House (London) for the Forbes family and the Blair Castle sale in early Spring and now the 'Taffner Collection' from New York. These single collection sales really exploit the qualities of our 'beautiful saleroom' in Edinburgh !!"
The Lyon & Turnbull website explains a little of the background behind the Taffner Collection:-
"Don Taffner was born in Brooklyn in 1930 and developed his business acumen, he later recalled, working as a teenager in his father's news and candy store. After university he was employed by the William Morris Agency, in the mailroom, but by the time he left in 1959 to found his own company he had risen to the post of agent. A year later, on a visit to an advertising agency in New York he met Eleanor Bolta; they married in 1961 and, in 1963, together formed their new venture, D L Taffner Ltd. Their success took many forms, but given their later interest in Scottish art, it perhaps seems appropriate that they specialised in taking UK television shows and transforming them for the American market, introducing Benny Hill, among others, to a whole new audience. Don and Eleanor were a successful and outgoing couple whose generosity was not just limited to Scotland, as they were major benefactors to Don's alma mater, St John's University, New York, and to St John's Bread and Life. The latter was a charity for the poor and hungry in Brooklyn and Queens – Don never forgot where he came from, saying 'There is a world of difference between what we are doing now and where I came from'."
Highlights of their summer sales included, in the Taffner Collection, a beautiful group of watercolours by Charles Rennie Mackintosh. Two of the highlights were 'Bouleternère', painted around 1925-7, from his period in the south of France which sold for £65,000; and 'Yellow Tulips', a remarkable still life dated to 1919 which made £130,000 and will remain in Scotland.  Elsewhere, an early watercolour by Frances Macdonald, 'Girl with Blue Butterflies' making £100,000 (a new world record for the artist), led an important group of watercolours by the artist along with works by her husband Herbert MacNair and sister Margaret Macdonald which were also included in the sale.
A pair of mahogany card room chairs by Charles Rennie Mackintosh, made especially for his greatest patron Miss Cranston for her home in Glasgow made £46,000 and one of the more unusual lots,  an intriguing oil painting by Sir John Lavery, depicting the artist with the child star Shirley Temple, 'Shirley Temple with the artist' sold for £23,000.
Indian artist Jyoti M. Bhati painting of a Kashmiri Girl valued at £500 made £7,500 at Lyon & Turnbull's Sale of Contemporary and Post War art on the 15th August 2012. An unusual black and pink Wemys Ware pig made £2,200 at the Wemys Ware and Scottish Design Sale. A Charles I communion cup circa 1640 made by Robert Gardyne II, valued at £20,000 belonging to the Kirk Sessions, Steeple Kirk Dundee it was sold at Lyon & Turnbull's Scottish Silver Sale on the 14th August 2012.