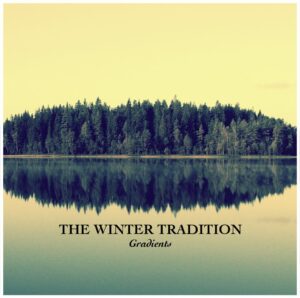 Weaving waltzing vocals with harmonic hooks – The Winter Tradition's debut sounds like a dream you don't want to wake up from.
The Edinburgh quartet have been honing their skills around the UK over the last few years; finally confining their expansive sound to full length record on Gradients.
Album opener 'Firelight' demonstrates exactly what the band are about – addictive, enthralling guitars centred around Ewan Simpson's honey-like vocals. Singing of how, "You make the world seem a little bit smaller/And the cold feel a little bit warmer", the song exhibits some true emotion without devolving into the derided 'emo' bracket.
Gradients lead single 'San Diego' continues and builds on this theme. The perfect union of fun and fancy, Mark Morrow and Stephen Furbank's guitars help build the perfect soundscape to bounce off Simpson's harmonies.
But The Winter Tradition have more in their locker than just up-tempo hits. 'From Afar' strips things back to its root, presenting a more controlled dynamism and texture to their sound. 'Conquer The Sky, Icarus' shows yet another string to the 4-piece's bow, beginning as a quasi-reverential prayer before swirling into a fine piece of polished post-rock artistry.
Gradients is an album that needs to be listened to in full to explore its many facets just as The Winter Tradition are a band that have to be seen live to truly appreciate the gorgeous eclecticism of their music. Tender, romantic, sorrowful and hopeful – this album is four beautiful seasons rolled into one.
4/5
Gradients is out now – http://itunes.apple.com/album/gradients/id543081001?v0=9988&ign-mpt=uo=1