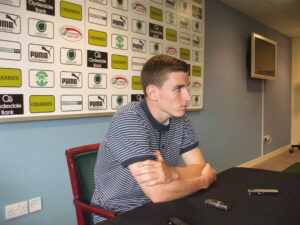 Hibs star Paul Hanlon is determined to get the season off to a good start against Dundee United this weekend to encourage the Hibs fans to return to Easter Road after a disastrous campaign last year. Speaking at the weekly press conference, the Scotland Under-21 captain said:- "We just want to get the season underway. It's a tough game coming up at Tannadice but we are all looking forward to the season starting and we just want to get off to a good start. I'm feeling good. Pre-season went well for us
"We need to get the fans behind us and turn out in numbers  which will be all the better for us, but we have two tough games coming up at the start of the season and if we can get good results in them hopefully we can push off from there. We don't go into games fearing anyone so we need to go there full of confidence and try and get the win.
"The main thing for Hibs is to improve on last year. We can't be in the same position again at the end of the season. So first and foremost we have to try and push into the top six. Every season is a big season and at the start you think you need to do better than the last one. I'm happy enough with the number of games I played last year but everyone is determined to put things right.
This week, Hibs fans from the 'Let's Work Together' initiative have been at the club telephoning fellow supporters trying to establish why they had not renewed their season tickets and Paul is aware of the importance of large vocal crowds at Easter Road are to the players.
He continued; "The last game against Dunfermline where the fans turned out in their numbers, it was great to run out for that game. It shows the potential that the club's got if we can put a run of wins together and get a decent side on the pitch, we've got everything here to be a massive club, but we need to get the wins on a Saturday to get them back through the door to fulfil the potential that the club's got."
There could be a change of position on the cards this season, with Paul moving from his normal role in the centre of the defence alongside captain James McPake to left back where he made his name at the club after being given his debut as a 17 year old against Rangers by then manager Mixu Paatelainen.
"For the pre-season I've been playing left back for most of the games. I'd rather be at centre half but we've a tighter squad this year and if the manager needs me at left back or wherever else I'm more than happy to do that."
Meanwhile Hibs manager Pat Fenlon is still working hard to try and bring in the players who can help the club improve on last season's campaign, but admits that his efforts have been hampered by a lack of finance. He also defended the number of loan signings from last season and hit back at pundits who criticised his tactics.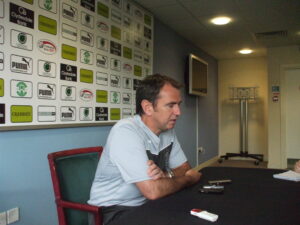 Fenlon said:  "I expect and hope that we will get more players in. We need to strengthen the squad. Sixteen players have left since the end of the season so it's not rocket science to see that we are short in certain areas. We're working away in that. We know what we've got to do. We are fairly close on one and there are a couple of others we are looking into.
"People accused us of having too many loans last year but I asked the question where else are we going to get the players. It's all right them sitting on TV screens saying we've signed too many players on loan, but if people who can do that say 'here's eight players we can get for nothing' I'll go and get them, so I'm disappointed in  people in the game making comments like that about us.
"We've spoken to three or four real quality players but they have gone elsewhere form more money and I can understand that as well. It's a short career, so it's not as if we've been sitting not doing anything, we've been working our boiler off. We lost out because clubs can outbid us ad that's the way it is. I'd love to sign both Alan Maybury and Mark Kerr if I could but at the moment I'm not sure, it's just down to finance. They've both been in training and are both great lads. We have to live within our means and I understand that but we have to make sure that the people here coming through the turnstiles get what they deserve."
Fenlon, like Hanlon is well aware of the importance of the fans and is determined to pit a smile back on their faces.
"We've lost a lot of support here in the last two seasons and it's how to get them back. People can talk all they like but the only way to get people back through the door is to win football matches. Last year was not acceptable for a club like this but we are trying hard to change that. The supporters have been tremendous in the way they've backed the club this season
Hibs kick off their campaign with a tough away fixture against Dundee United at Tannadice on Sunday with a 1pm kick off.