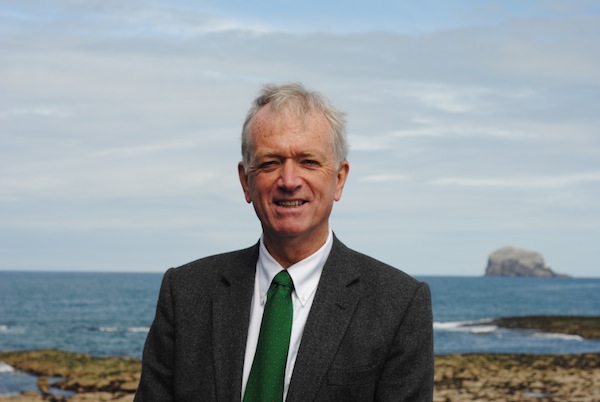 East Lothian's award-winning visitor attraction, the Scottish Seabird Centre, has appointed a new Chairman. David Windmill was voted in unanimously at the annual general meeting of the charity's trustees yesterday.
David brings a wealth of experience to the Scottish Seabird Centre as his previous roles include Chief Executive of the Royal Zoological Society of Scotland (2002 to 2011) and Managing Director of Marine Harvest Chile and Scotland (1994 to 2001).  These roles bring a mix of commercial and charity management experience – key requirements for the Seabird Centre.
As Chief Executive of RZSS he significantly developed the wildlife conservation, education and research work of the Society. Similarly these are key activities for the Centre.
David is currently the Honorary Consul General for Norway in Scotland and in this role he hopes to help develop the links between the Scottish Seabird Centre and Norway, as the Centre is currently providing advice for the proposed national Seabird Centre on Norway's north coast, above the Arctic Circle.
David Windmill, Chairman of the Scottish Seabird Centre, said: "I'm very much looking forward to taking over from Neil Rankin CB CBE, who has had an impressive number of achievements during his time in this role. I would like to thank him for the energy and commitment he has shown to the Centre since its beginning and wish him all the best for the future.
"I believe that we can build on all these accomplishments and I envisage a bright future with potential for further international links and broadening the Centre's appeal for the benefit of all. We must also remain focused on our objectives as a conservation and education charity. The first of my duties will be building relations with staff, volunteers, members, local community groups and indeed my fellow board members to ensure that the Centre continues its long tradition of success and engagement.
"There are some exciting times ahead and I'm confident the international reputation of the five star Centre will continue to grow whilst remaining firmly based in the local community."
Tom Brock OBE, Chief Executive of the Scottish Seabird Centre, adds: "David has extensive experience in visitor attraction management. His expertise and vision will undoubtedly be an asset as we look forward to building on the success of the charity for the benefit of our local community, visitors and our amazing wildlife."
For further information on the Scottish Seabird Centre visit www.seabird.org
Facebook/ ScottishSeabirdCentre
twitter@SeabirdCentre