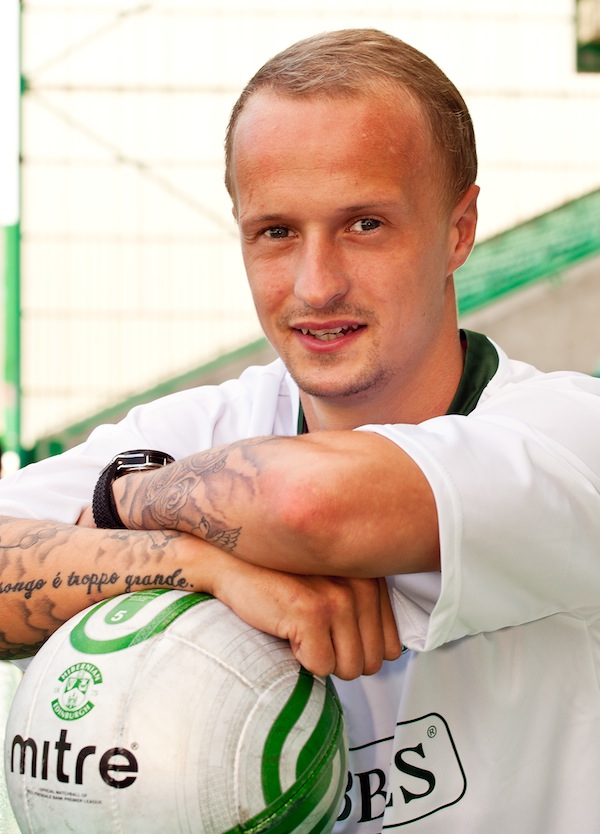 Hibs striker Leigh Griffiths has expressed his joy at the news that he will start the season in the famous number nine jersey for the Easter Road club, and promised the fans that he will cut out the bad behaviour which saw him suspended for several games last term.
Speaking ahead of the friendly with Huddersfield Town, the Scotland under-21 international said: "I'm delighted to get the number nine jersey. I got told on Tuesday just before the game that I was getting the official number and I managed to get the training kit this morning and I was absolutely delighted, taking pictures of it and stuff. I partnered Garry (O'Connor) last year and he's been number nine when he was here before, and the likes of Keith Wright, and before that the legends who have also worn it. Obviously I'm not in the legendary bracket but hopefully I can write my name into the history books this year. I'm hoping to be the main striker and with the number nine jersey it gives me added responsibility but I'm happy to take it.
"I could have stayed in England but I know the manager likes me and I have faith in what I can do for the team, and that's playing well and scoring goals."
Leigh is aware that some amongst the Easter Road faithful have their doubts regarding his attitude, but he is determined to do his talking on the pitch.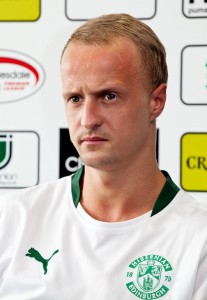 He continued: – "My mates have been reading a few of the forum sites and apparently a few Hibs fans didn't want me back but I've said in the press I'm trying to change and that starts with everything. Obviously the manager spoke to me as well and hopefully I can calm down a bit. I've still got some fire in my belly that the manager likes and I don't think he wants to take that out of me, it's just the stupid stuff like gesturing to the fans and getting involved with the referees that I'm trying to cut out of my game and hopefully the fans will see that in the coming weeks.
"We are looking at top six because Hibs are a top six team. Last year was a bit of a blip but we are looking to rectify that and hopefully be in the top six this year."
With no Rangers in the SPL this season, second place is up for grabs, but Leigh believes that may be a step too far for Hibs at the moment.
He continued: -"You can't jump from eleventh to second straight away but we will do our best, obviously there are three European places up for grabs and if we can get into the top six you never know what would happen: if we get three home games and two away. We've got a difficult start to the league campaign with Dundee United and the derby here on the eleventh. It's going to be hard but hopefully if we can take maximum points we could set ourselves up for a good campaign."
Meanwhile Hibs boss Pat Fenlon is still hopeful that a deal can be struck to enable Republic of Ireland international defender Alan Maybury to sign for the club.
He said "He's training with us at the moment and he will be involved tomorrow. We'll sit down over the weekend with the club and with Alan and we'll see where it takes us. I am interested in Alan but it's whether we can do anything, is where we are at the moment.
"What he give us, is that he is a very very good professional and he can play anywhere across the back and I've said previously when we've released so many players that we need two or three players in the squad that can play in a few positions and Tim Clancy fits that role as well."
Fenlon also confirmed that he is still trying to bring in new faces ahead of the forthcoming season, but the finances mean that the task is not an easy one.
He continued:- "We are working away on that at the moment; I still feel that we are a bit short in one or two areas. It's not as easy as people think, people keep saying why haven't done this and we signed him but we  have tried to sign players but unfortunately there are still clubs in Scotland that are outbidding us for certain players but we are looking for players and will continue to do that. We may have to remove one or two to do that but it's a difficult time for everyone at the moment."
Photographs by JC Mackintosh