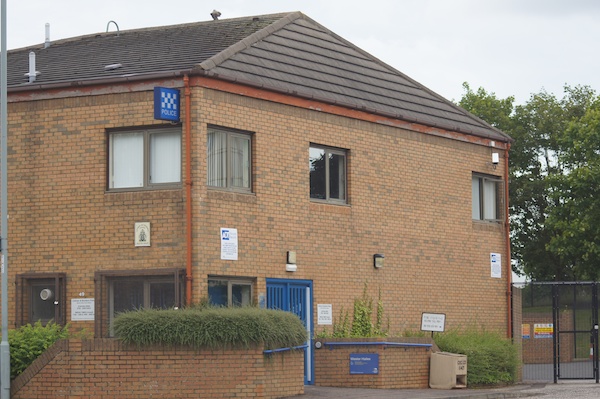 Incidents at Haymarket and Ocean Terminal  – Live web chat with Lothian and Borders Police – Changes to rubbish collections – Fix my Street – Festivals
Scotrail are reporting some disruption to rail services this morning apparently as a result of a person being hit by a train.The lines are opened again but Network Rail are expecting delays until at least 10.00 a.m.
The BBC reports the details of what caused the roads around Ocean Terminal to be closed yesterday. A man in his thirties was run over, by a car which then failed to stop. He died in the early hours of Sunday morning at Edinburgh Royal Infirmary. Police are looking for a silver Astra hatchback in connection with the incident. But the Daily Record has a story which one of our Twitter followers claims to have reported to them. A 19 year-old, Ikram Choudhury, who found the man lying in the bus lane at Ocean Terminal is said to have tweeted a photo of the dying man and he did not use his mobile to alert the emergency services despite his own followers urging him to do so.
***
Tomorrow at 1pm we are running a live web chat with Chief Inspector Richard Thomas who is based at Wester Hailes police station, but whose Pentlands area covers a large portion of the south west of the city from Balerno to the West End. We invite you to join us then in our TER Live section, but also to send us some questions for him. What do you think the policing priorities in the area should be? Do you know about Operation Cypher which is about to get underway?
***
Changes are being made to the council's domestic waste collections in a bid to encourage city residents to recycle more.
Managed weekly collections will be introduced to all houses in the Capital which use individual wheelie bins. From September, green domestic waste bins and brown garden waste bins will be picked up on the same day on alternate weeks. Food waste recycling, which was introduced to the same households this year, will continue to be picked up weekly.
While residents already recycle a third of the city's waste this figure must rise to 50% by 2014 and 70% by 2025 in order to meet national targets. An average of about 0.5 tonnes of rubbish is sent to landfill each year per household, which is harmful to the enviornment and leads to huge pressure on energy and resources.
Food waste makes up around a third of rubbish in an average bin, so it is anticipated that residents who use the Council's food recycling scheme will produce less domestic waste. This service will be introduced city-wide next year.
Similar services to this throughout the UK have shown that food and general waste can be hygienically stored in bins with closed lids. Research funded by the Department for Environment, Food and Rural Affairs (Defra) supports this.
Environment Convener Councillor Lesley Hinds said: "Residents can be assured that with another two months untilmanaged weekly collections begin, every person who will be affected will be sent the details.
Staff will be knocking on as many doors as possible so that they can give these details face to face. Information will also be posted on the Council website and a public awareness campaign will start at the beginning of August.
"Refuse collections in Edinburgh are being altered in a bid to reduce the amount of rubbish sent to landfill and to encourage households to recycle more. With a large choice of recycling options available, including food waste recycling, we hope that this will reduce the need for affected households – about 50% of the city – to have waste collected for landfill each week.
"These changes will help to reduce the 148,000 tonnes of rubbish we dump at landfill each year, and to raise recycling rates from the current 33.5% to 50% by 2014.
"Anyone who would like more information about refuse collections and recycling are welcome to get in touch with the Council's Waste Service department."
***
If you see a pothole or something on our roads and pavements which needs fixed then you can tell the council by using the Fix My Street website, and now the App which has been developed to make it easier to do so. You can find details of how to report any problems on our streets here.
***
With all the Festivals approaching it can be a daunting and unrewarding prospect to trawl through websites and programmes to find shows to fit your timetable and budget. The Guardian has a list here which may cut out some of that grief for you. Also as well as all the other various sites you can cut to the chase with a site powered by content from The Scotsman which aims to give you access to all the festivals in one place. We know that it looks a little out of date at the moment but the links do work, and we can only imagine that it will get more populated with newer news as the weeks goes on.There is also the EdFringe App. Any more recommendations as to how to get to the heart of the Festival? We will be bringing you audio of the Festival and the Fringe on Edinburgh Reporter Radio which you can see and listen to the beginnings of here. We are off today to get our first sounds!