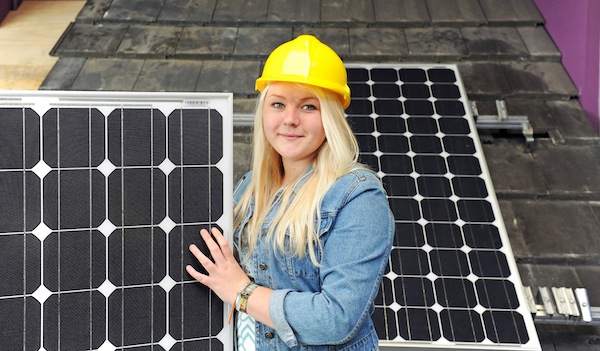 Energy Future Looks Bright for Edinburgh's Telford College
A Scottish college which is at the forefront of developing training opportunities in the burgeoning renewables industry has endorsed its eco-credentials by revealing plans to install Scotland's largest solar roof.
Edinburgh's Telford College is to fit up to 650 solar roof panels and introduce a range of other novel low carbon technologies on its West Granton Road main campus over a phased programme – which will generate enough energy to allow it to become self-sufficient in power and to showcase it as a UK role model for an energy – efficient building.
The project will mean the college can significantly reduce its power bills and will be able to sell surplus electricity to the National Grid, allowing it to reduce its reliance on government funding.
Present and future students, as well as architects, designer and engineers, will also be able to gain unique 'real environment' training in renewable energy and in developing self-sufficient buildings. The Solar Roof Project has been researched and developed in partnership with Heriot-Watt University and iPower and is headed by John Laing, the college's Business Senior Manager (Construction and Renewables).
Sundog Energy, the company behind the multi million pound solar roof at London's King Cross Station, has been appointed to initiate the first phase, which will see the installation of the 200 plus solar panels generating 50 kw per hour in June.
Miles Dibsdall, OBE, Principal of Edinburgh's Telford College said: "We have a strong commitment to developing and strengthening our green credentials and the installation of the solar panel roof, with the other technologies we are planning, is a major endorsement of this pledge.  It will provide us with a ground-breaking, living and breathing renewable energy model that will allow both students and teaching staff to upskill their learning in this field.
"In addition, not only will it help us become greener in our energy practices and allow us to become a fore-runner in the UK for energy efficient buildings, but it will also work to help reduce our energy costs, making it a substantial, sustainable investment both environmentally and financially."
 The college has been actively working over the past few years to build upon its green credentials and this year launched the Edinburgh Renewable Energy Innovation Centre (ERIEC), which is the first of its kind dedicated to offering exclusive training and skills development for workers in the renewable and construction industries.
Miles added: "We strive to provide courses which will help protect and advance the employability of our learners.  Renewable energy is a key focus point for our educational offering, because we have recognised that this field is such a fast growing sector for the Scottish economy. The value of having a unique project of this scale, literally under the one roof, will be immense. It will give unequalled levels of knowledge transfer in the field of low carbon technologies that will help ensure the next generation of workers are superbly positioned to reap the benefits of the renewable boom."
Scotland's Energy Minister Fergus Ewing said: "I congratulate Edinburgh's Telford College on the exemplary role it is playing in Scotland's green energy revolution, installing one of the biggest solar roof panels in Scotland, which will provide electricity for the college; as well as launching a renewable energy centre to help ensure we have the skilled workforce to allow Scotland's burgeoning renewables sector to continue to grow."
Learners, partners and visitors to the College will be able to view what electricity being generated and saved through a display panel at the reception which will display instantaneous data and daily and monthly totals.
The first phase of the solar roof – covering 333 sq/m – represents a £90,000 investment, but will save the college between £2076 and £3788 a year in electricity bills over the first ten years.  It is estimated that the college will make a profit – based on income from the Feed In Tariff (FIT) and savings – of £378,000 over the 25 year life of the project.  The project overall will break even in nine years.
The second phase of the project will involve further research between the college and Heriot-Watt University and ipower to look at additional ways to generate greater amounts of energy and educational co-benefits by developing different systems of micro generation such as fuel cell and solar thermal technology to match the installation of the further solar panels.
One plan being looked at is to use the energy from phase two to fuel electric cars between campuses and also to provide the college's entire hot water requirements. In addition, phase two will continue to enhance educational learnings for students with the college also possibly gaining extra income through visits from other colleges/universities and corporate events.
Edinburgh's Telford College is one of Scotland's largest independent further education facilities.  They provide a wide range of employer led programmes designed to help its learner's progress into work or University.
Our photograph shows Telford student Emily Whitecross from Edinburgh, who in her second year will be studying Renewable and Solar Thermals as part of her course and will benefit greatly from the second phase of the solar panels.
The college currently has around 17,000 students and 600 members of staff.
More information about the college can be found at www.ed-coll.ac.uk