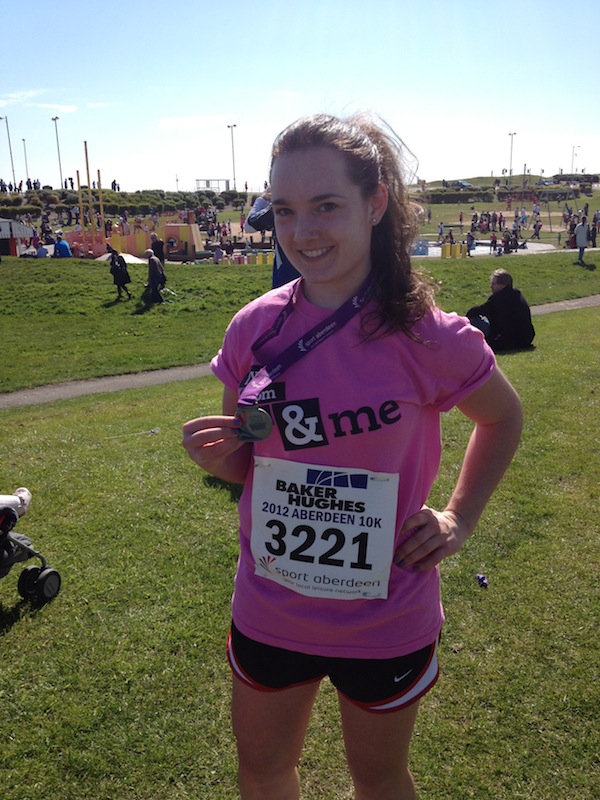 Jenny Reekie completed the City of Aberdeen Baker Hughes 10k road run on Sunday 20th May 2012 and raised £200 for The Katie Piper Foundation
Braids resident and Aberdeen University Student, Jenny Reekie, completed the City of Aberdeen Baker Hughes 10k on Sunday 20th May 2012 and raised £200 for burns charity, The Katie Piper Foundation
"I'm so pleased to have been able to raise this money for the Katie Piper Foundation.  The foundation works to support people living with burns and scars and I think the gift of self- confidence and the ability to be happy in your own skin is truly wonderful." says Jenny.
Head of Fundraising at The Katie Piper Foundation, Carol Borwick commented:- "We're so grateful to Jenny for completing the race on our behalf and thanks to all her friends and family for supporting her.   The money raised will help us make a positive difference to burns survivors through life-changing treatments and workshops".
Launched in July 2010, The Katie Piper Foundation is a registered charity which aims to make it easier for people to live with burns and scars by progressing extended rehabilitation and scar management for burns survivors, providing information on and access to non-surgical treatments for burns and scars, campaigning for consistent clinical care and developing a support network for people living with burns and scars.   The Foundation helps disfigured people to reconnect with their lives and their communities.