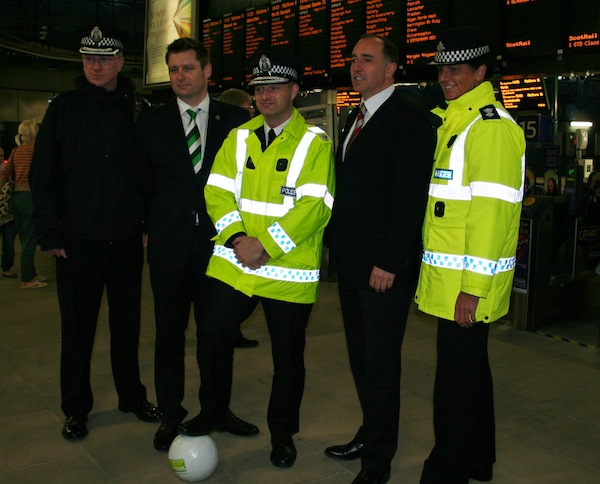 With the upcoming Scottish Cup Final this Saturday, members of the police and the Hibs and Hearts managing directors got together in Waverley Station this afternoon to explain arrangements  to the media.
The two Edinburgh based clubs have long been rivals and are actually believed to have the oldest and longest running rivalry in all football history. Hearts manager, David Southern, said:-"With the greatest respect to our predecessors in the 1890s, we do believe this is the biggest Derby ever between the two clubs, and it's an opportunity to advertise not just the city of Edinburgh and our football clubs, but Scotland across the globe."
Saturday 19 May 2012 will be the first time in over 100 years that the two teams have faced one another in the Scottish Cup Final, and it will be the first all Edinburgh final for over 100 years. Hibs Director, Fife Hyland, is really looking forward to Saturday:- "I'm excited and very proud to take part in the biggest game in our recent history against our biggest rivals."
With the Derby attracting so much attention, there are naturally concerns over crowd control, but Chief Superintendent Ellie Bird from the British Transport Police explained:- "There is no need for any special treatment; fans from both teams will be allowed into the train station."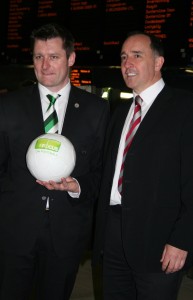 Although there are expected to be 40,000 passengers travelling between Glasgow and Edinburgh, the police claim this is the same number as any other day. Fife Hyland does not have concerns on safety:- "On this occasion the fans know they're ambassadors, not just for their own clubs,but for the city as well."
However anti-social behaviour will not be tolerated. Fans have been told to drink responsibly, and if they are drunk, then they will not be allowed into the stadium. Ellie Bird warned:-"It will only spoil your own enjoyment."
Hearts director, David Southern, said:- "Most of the planning has been done.  We've sold all the tickets and we're hopeful we'll see Saturday as a real focus on football.  It will be a showcase for the game across the globe."
Fife Hyland reflected on the past season from the Hibs point of view:- "Pride is the first emotion we have, and given the season we've had, down at the bottom of the league, this is just a great finale for us and something to look forward to."
The winning team will take a victory tour in an open top bus on Sunday 20 May 2012  leaving from the Royal Mile outside the City Chambers at 2pm. The route will depend on who has lifted the Cup!
If Hearts win. the bus will go along Johnston Terrace, Morrison Street, Dalry Road and Gorgie Road. If Hibs win, the bus will go along Easter Road, North Bridge Leith Street and London Road.