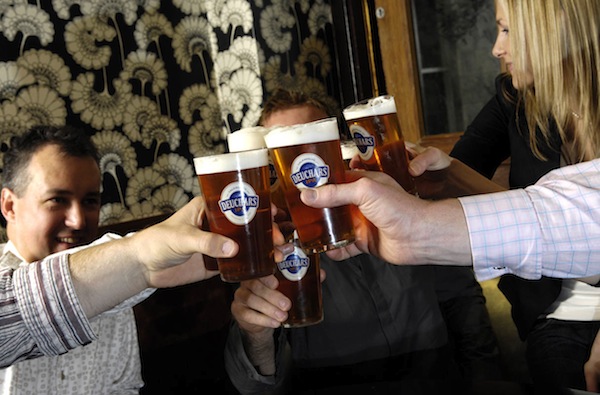 Deuchars IPA is brewing up a storm in Edinburgh after being voted the number one IPA in a consumer poll.
The award-winning India Pale Ale scooped top position in a campaign organised by the inaugural 30 Days of IPA – an annual celebration of the history and diversity of India Pale Ale – which took place in the capital throughout the month of April.
Commenting on the results, Tom Cannon, at Caledonian Brewery, which brews Deuchars, said:-
"This is fantastic news for the brand, particularly as there's a huge amount of competition emerging from brewers large and small: all of whom competed alongside Deuchars IPA. We'd like to thank the voters for rating us the number one IPA – this is a resounding vote of confidence for Deuchars IPA in its heartland and we're delighted with the result."
Throughout April, drinkers were given the opportunity to vote for their favourite IPA in various participating pubs in the capital, including The Bailie, Ryans and The Peartree. They could also rate their top tipple via the event's website. The poll attracted over 1,000 votes from ale lovers in and around Edinburgh.
Brewed only in Edinburgh's Caledonian Brewery, Deuchars IPA reflects the best of the capital's combination of historic tradition with modernity. The cask beer has excited the industry and fuelled the Scottish ale renaissance and is a favourite amongst the likes of author Ian Rankin, Inspector Rebus and comedian Russell Kane. Its combination of taste and refreshment is delicious and slightly fruity, without being too bitter.
Hand-crafted in the brewery's original Victorian brewhouse, the malt infusion and hop flowers are boiled vigorously in Britain's last remaining direct-fired open coppers, resulting in a beautifully, balanced flavour.
Paul Hastie from 30 Days of IPA, said:-
"We'd like to congratulate Deuchars IPA on deservedly taking the top spot in our IPA poll, particularly as they were up against so many fantastic beers, including Clipper, Imperial and Raj. This is the first time we have held the event, so it's an exciting time for us. Our overall aim was to celebrate over 300 years of IPA history, through tasting sessions, meeting brewers and generally having fun. We're looking forward to next year's event and to see if Deuchars IPA will hold onto its crown!"