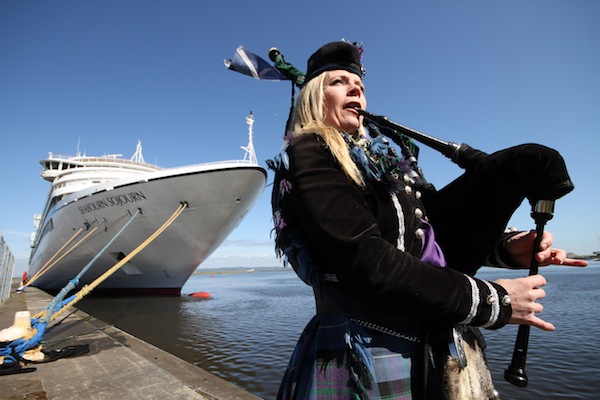 SEABOURN SOJOURN LAUNCHES BUMPER 2012 CRUISE SEASON 
The ultra-luxury Seabourn Sojourn cruise liner called at Leith this weekend marking the start of the Port's cruise season for 2012. The Port of Leith, owned by Forth Ports, is the gateway to Edinburgh for the cruise business, and has been welcoming commercial liners to the Port since the mid 1960s.
2012 is set to be the busiest cruise season for the port operator with over 80 cruise liners calling at the Scottish ports of Leith, Rosyth and Dundee bringing thousands of visitors to Scotland.
Commenting on the start of the 2012 cruise season, Charles Hammond, Group Chief Executive of Forth Ports said:- "We are delighted to welcome the Seabourn Sojourn to Leith to launch another busy cruise season. Our cruise business is growing each year, with an ever increasing of ship numbers calling at our ports and passenger numbers, with over 80,000 visitors expected this season. The Port of Leith offers easy access to one of the most famous cities in the world, bringing significant economic benefit to Edinburgh and the City region. There is tremendous opportunity for us to grow our cruise business to help support Scotland's important tourism industry."
The Seabourn Sojourn, launched in June 2010, is an ultra-luxury 11-deck ship, christened by the British model, Twiggy, on the River Thames, accommodating 450 passengers and 330 crew. She arrived in Leith as part of its 12-day 'Celtic Cruise' starting in Lisbon and calling in Spain, Ireland, UK including Leith and then onto the Netherlands with the final call in Hamburg. Passengers aboard enjoy six-star facilities including four restaurants and six bars, two swimming pools and six whirlpools, the largest spa on any ultra-luxury ship, a 9-hole putting green, cabaret and classical recitals in its Grand Salon.
The Cruise Terminal at Leith has excellent facilities for visitors with easy access to the retail and leisure facilities at Ocean Terminal and transport links into the City Centre. Forth Ports has berthing options at the Port of Leith, Rosyth, Houndpoint and Port of Dundee.