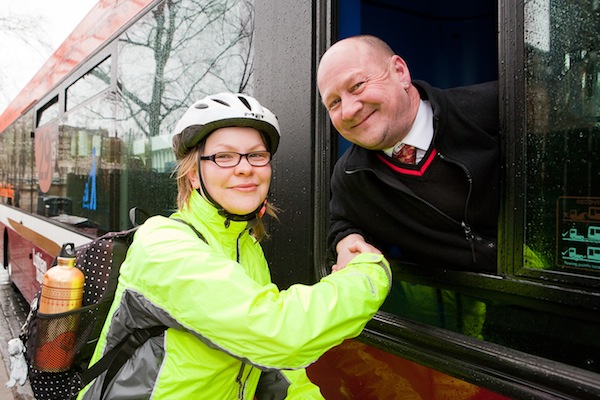 "Drive Safe, Cycle Safe", has been launched today by a multi agency group aiming to reduce the number of road traffic incidents involving cyclists on the city's roads and streets.
Streets Ahead Road Safety in Edinburgh, comprising the Council, Police, Fire Service and NHS Lothian, has developed a series of campaigns to run throughout 2012 which focus on creating awareness and respect amongst motorists and cyclists.  The campaigns deal with specific types of behaviour  that can result in serious injury or worse.
Phase one of the campaign launches with an educational campaign highlighting the importance of observing traffic signals and cycle boxes (advanced stop lines) at signalised junctions.  This is a problem area for many road users who are often unsure of the rules and how they apply to cyclists and motorists respectively.  Junction behaviour is important as between 2004 and 2009, 74% of cycle casualties were injured at or within 20m of a junction.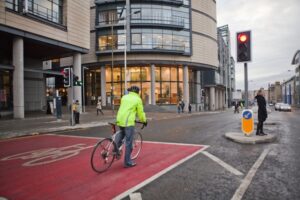 In the run up to the campaign, the Council has refreshed cycle box markings at junctions across the city.
Marshall Poulton, the Council's Head of Transport said:- "We have put in place a continuous programme of improvements aimed at making the city safer for the increasing numbers of people choosing to cycle in our city. Our aim is to make the best use of limited resources to make improvements to the road and cycle path networks where they will have the largest impact on safety for cyclists.
"This is, however, only one aspect of the campaign.  Equally important is educating both drivers and cyclists on the types of cycling and driving behaviour which put people's lives at risk. We are simply asking individuals to take responsibility for their own actions and to consider everyone's safety when they are on the roads."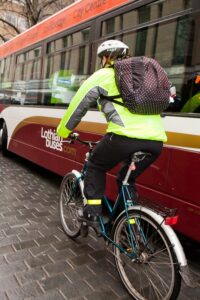 A cycling safety roadshow offering information and advice, as well as free bicycle maintenance checks, security markings, maps and other giveaways will tour various locations during the week:
Wed 4 April: 11am to 2pm, Royal Infirmary of Edinburgh
Thurs 5 April: 11am to 2pm, King's Buildings campus, University of Edinburgh
Emma Crowther, University of Edinburgh's Transport and Parking Manager said:- "The University is playing a key role in supporting and encouraging cycling in the city. More than 10% of our 35,000 staff and students choose to cycle to work and study, and 13% drive. The University fully supports the Streets Ahead campaign because it aims to foster respect between cyclists and motorists, helping to make Edinburgh's roads safer."
Lothian Buses supplied a bus for the Bristo Square roadshow. Ian Craig, Managing Director of Lothian Buses, said:- "Through our ongoing extensive driver training programme for new and existing staff, we aim to raise the awareness of our employees to the potential hazards faced by drivers and cyclists while encouraging road safety as a whole.
"To show our continued support and to complement the work of our 'Streets Ahead' partners, we have produced a short film to highlight the problems faced by drivers and cyclists daily. We hope by promoting this film to all road users in Edinburgh it will raise awareness of road safety and help prevent potential accidents."
During a second phase of the campaign Lothian and Borders Police will carry out enforcement with cyclists and motorists who are breaking the law.  This activity will commence four weeks after the start of the educational phase of the campaign.
Chief Inspector Gavin Phillip, Lothian and Borders Police,  said:  "Lothian and Borders Police is committed to making our roads safer for everyone, and fully supports the Streets Ahead campaign which aims to promote safer cycling within Edinburgh.
"By working with our partners, such as City of Edinburgh Council, Spokes, Edinburgh University and Lothian Buses, we intend to reduce cycle related accidents by providing education to all road users in order to raise awareness of the potential hazards faced by drivers, cyclists and pedestrians.
"Throughout the campaign we will have officers on bikes engaging with the community and encouraging them to take responsibility for their actions and to show respect towards other road users."
Further safety campaigns will run throughout the year addressing a range of issues affecting cyclists' safety including large goods vehicles and blind spots, junction manoeuvres, and visibility of cyclists.
Here is the information flyer produced to alert cyclists to the significance of stopping in the box.