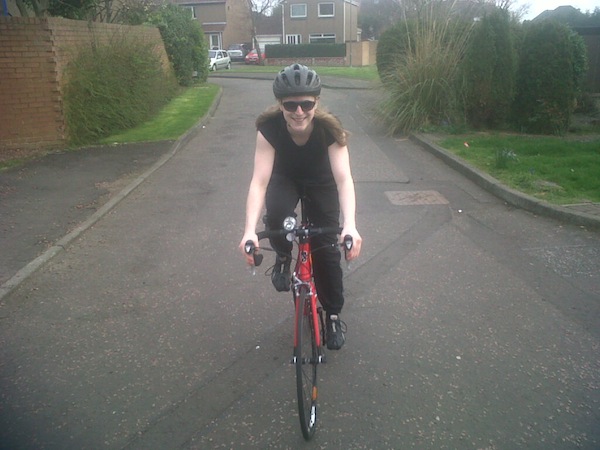 City cyclist Jemma Smith was knocked off her bike in Corstorphine at 7 o'clock this morning, only two days after taking part in the cycling safety protest, Pedal on Parliament, at the weekend.
Half a mile into her daily morning commute to the city centre, riding her bike which was only a month old, she was thrown up into the air by a car. As a result she has been to hospital to be treated for concussion and damage to ligaments in both knees. Twenty-five year old Jemma who works as an analyst at Standard Life and commutes into the city centre, was passing the junction where the Scotmid store sits at the end of Drumbrae Avenue when the accident occurred.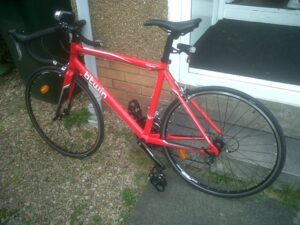 Jemma became aware of a silver car ahead of her waiting to join the flow of traffic  on the main road from the street on her left from quite a distance away. "The driver was indicating to go the same way as I was. Nine times out of ten drivers see you in time and stop. But today the weather was pretty horrible, so perhaps she could not see just as well, but she just kept on coming at me and just as I passed the junction she accelerated and hit me with the front driver's side of the car."
"I was in a primary position about a metre away from the pavement and wearing high vis gear and using lights so I thought I could be seen."
"I am not 100% sure what happened then. The next thing I knew the impact of the car had pushed me sideways.   I had anticipated the crash by then, and had stamped on my pedals, so I went up in the air with my bike attached.   I flew through the air for about fifteen metres and then I landed on my head slid down to my shoulder and skidded along the road for a bit. I realised that I was in a very dangerous place in a very busy road.  I saw the sky and my first instinct was to get away out of the traffic."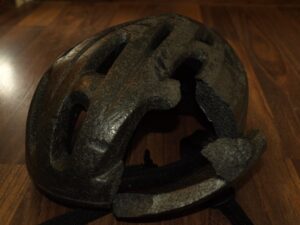 "I was pretty shaken up and another motorist put me in their car to wait for the police. The lady who hit me with her car was pretty upset.  I am a driver too and have had road accidents, and know it is very traumatic hitting something never mind a person, and of course it all could have been a lot worse."
 This accident will have financial consequences for Jemma who said:- "I commute every day. I just sold my old bike at the weekend too so I have nothing to fall back on until I get my bike fixed! Although I will not be able to use a bike for a little while anyway, and will have to rely on buses until my knees are okay again for cycling. I have damaged my helmet which is actually cleaved in two. There will also be repairs needed to the bike, and my jacket was ruined."
Jemma concluded:-" I was astounded that according to the police officer who attended the accident, there is at least one incident like this in the city every day. To think that only a day or two ago I was at the start of Pedal on Parliament on my bike trying to highlight the need for increased road safety! It was a very well organised day. We were at the very start and it was an amazing sight to  turn round and see all the cyclists behind us at The Meadows."
The motorist has not been charged according to Lothian and Borders Police.
Pedal on Parliament took place on Saturday when almost 3,000 cyclists converged on Holyrood to highlight the need for safer streets for our cyclists. The photo of Jemma was of course taken a short time ago when she got her new bike. The cycle is now back at the shop for repairs.