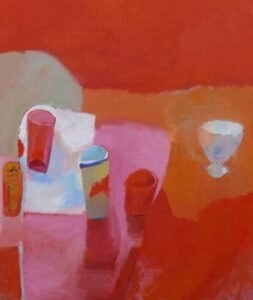 A new exhibition has opened at the Union Gallery on Broughton Street.
Cathy Campbell previewed her first ever solo collection of paintings at the Union Gallery this month.The exhibition is entitled 'The Joys of Spring' and it features Cathy's still-life painting techniques which she is so well known for.
As well as having a well-earned reputation as an artist, Cathy is a tutor at the Glasgow School of Art.
She uses the natural light in her studio to begin work on the paintings and gets inspiration from the way the light falls on the objects she has collected.
The exhibition is part organised by The Gallery Director Rob Dawkins who said:- "The Gallery is very proud to have been able to put on Cathy's first solo exhibition…It means a lot to use that she was happy to entrust such an important stage in her career to Union Gallery.
"When people come into the gallery, they smile and feel instantly relaxed by the joyfulness of the work. It is beautiful, but also extremely calming and very colourful – a real feast for the eyes," said
He continued:- "She is a painter of outstanding talent, producing beautiful paintings, so we are delighted to be able to show a large body of her work to the public."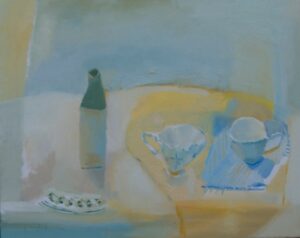 Cathy said:-"It's really lovely exhibiting with the Union for my first solo. I feel fortunate that Alison and Rob share a similar sensibility.  It's been good for me that my students have taken such an active interest. I think it's useful for them to see their tutors work outwith the confines of the college studio. My inspiration is light and colour and the edge where fields of colours meet."
The results are highly decorative and somewhat optimistic paintings, and that makes her work highly infectious.
Hoping to follow in the footsteps of the success of Cathy's exhibition, the Gallery has a wide range of other exhibitions running throughout the year. Included in these are; A two person exhibition by Kevin Low and Stewart Brenner, Norrie Harman solo exhibition and a mixed exhibition of Scottish abstract art to be held in Scotland for many years.
UNIONgallery
45 Broughton Street Edinburgh EH1 3JU
Tel: 0131 556 7707
Email: info@uniongallery.co.uk