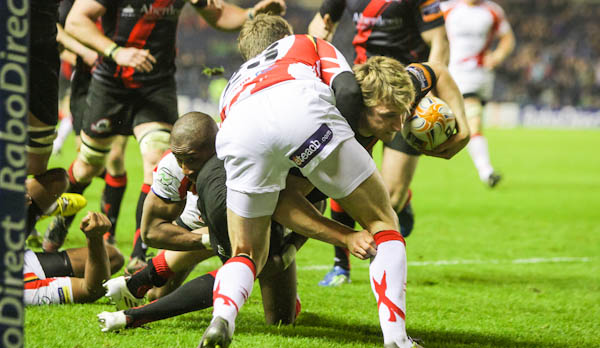 Edinburgh fielded a fairly inexperienced team in their latest RaboDirect PRO12 clash at Murrayfield against the Dragons from deepest, darkest Wales and probably paid the price, losing 29 points to 15 in an error-strewn performance.
Edinburgh opened the scoring after four minutes with a penalty from stand-off Harry Leonard, which must have given the crowd a bit of a lift after a study of the programme brought up a few 'Who the ****..?'s for them to ponder.
However, that was the last time the hosts were to see the lead as the Dragons, retaining the ball from their own kick-off, lofted a kick in behind the defence which flying machine, Toderai Chavhanga, collected to score the first of his two tries. With Steffan Jones converting, the Dragons went 7-3 ahead. An exchange of penalties to take the score to 10-6 for the visitors was interrupted on the 15 minute mark by the same combination of kick/Chavhanga try/Jones conversion to put the Dragons 17-6 ahead. Another pair of penalties each from Leonard and Jones maintained the points differential, with the first half finishing 23-12 to the Welsh side.
If anything, the second half was even less inspiring for the crowd (4,459 attendance) with a penalty from Leonard and two from Lewis Robling, the only scores of the half to leave the final tally at 29-15 to the Dragons. There were a couple of good points for Edinburgh, though, with Tim Visser – strangly quiet – almost getting away, but Man-of-the-Match, Chavahanga, just got the merest of ankle-taps in to bring the Dutchman down and, in the dying seconds of the match, Edinburgh's No. 14, Tom Brown came very close (pictured), but had the ball knocked loose inches short to allow the referee to, mercifully, end the match.
Not the best match of the season, but with Edinburgh 'resting' their big names before the Heineken Cup match-up with Toulouse in a couple of weeks, their young players had a welcome run out in, frankly, a competition where any interest for the home side was over before the turn of the year.
Report and Photo – John Preece
Web – http://www.photoboxgallery.com/jlp-photography