by guest reviewer, Alex D'Anci
Steak Edinburgh can be found on Picardy Place, just across from the Omni Center and the Playhouse theatre. The decor is modern with clean lines. Large mirrors where you think windows should be give the effect of space without being distracting.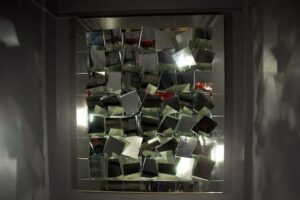 I was quickly seated and my drink request delivered in no time. A good cocktail makes a good first impression, though I ordered a classic, Tanqueray Martini extra dry with a twist of lime, it is amazing how often it can be ruined. Steak's mixologist's execution of this classic was spot-on … arctic and dry! A good start.
The waitress then brought out a board with example steaks. This is a great concept as it gives the diner a better idea of the different cuts (don't bring your vegan mates!). Steak features Aberdeen Angus and Black Isle beef. I chose Black Isle Rib Eye on the bone, medium rare.
For the starter, I ordered the smoked eel & bacon salad and was delighted with the two smoky textures, one crisp, the other soft but firm on a bed of frisée. The Martini was a good foil for the smoky starter, though I am sure a suitable wine could be found from the extensive wine list. As sides for the main course, I ordered Lobster Mash. Having grown up in New England where lobster was plentiful, I was curious.
For the other side, the Buttered Spinach & Hazelnuts. Though I prefer my steak sauce free, chef Jason Wright offers three sauces for the meat, I chose the Mixed Peppercorn Sauce just to taste. Wine choice: Etchart Privado Malbec 2010.
The meat was cooked perfectly, and the sides and sauce complemented the rib eye nicely. The Lobster Mash was rich with lobster butter and meat, while the spinach provided a balancing element with a nutty crunch. After a long discussion with the waitress, I decided on the Citrus Meringue Pie with Orange Sorbet. The title was deceptively simple. When presented with the dish, I was amazed at the complexity, and asked to speak with chef, Jason, about it. The Orange Sorbet was sitting on candied orange zest shreds, on a bed of lime "soil." The pie, a tart of lemon custard with a nicely browned meringue top. Jason and I discussed the dessert recipe, as well as the different elements of the meal.
Steak's menu has many other items that look interesting, from Mussels with Cider & Bacon to the Head to Hoof tasting menu, Unfortunately I do not live in Edinburgh, so cannot frequent Steak on a regular basis to try everything. But I will plan to dine at Steak whenever my business takes me back to Edinburgh.
Steak is at 12 Picardy Place although you enter through the door at number 14.  T 0131 557 0952 E BOOKINGS@STEAKEDINBURGH.COM
Alex D'Anci, Chevalier, Bailliage de Finlande and Chaîne des Rôtisseurs.