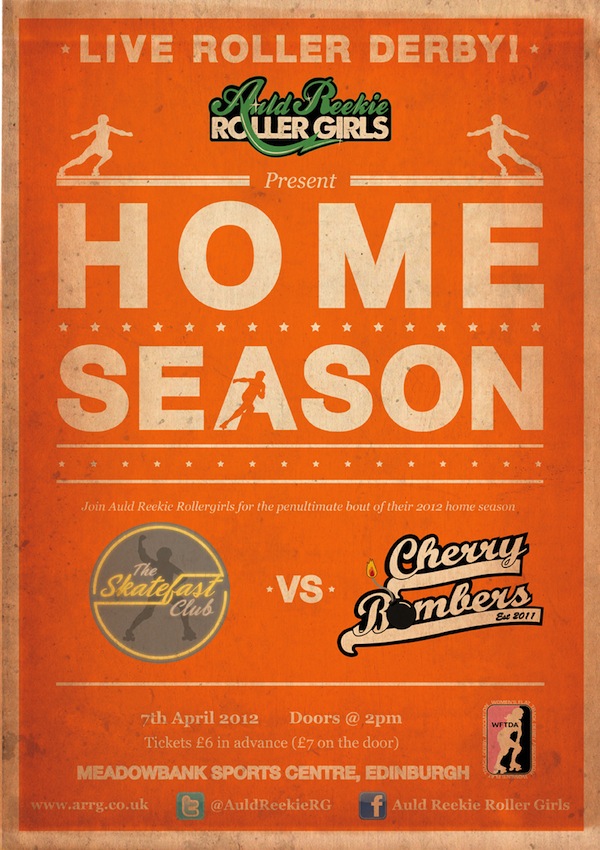 Live! Roller Derby! Auld Reekie Roller Girls Home Season dates in April
Tickets: £6 plus booking fee online, £7 on the door.
All bouts and free for children aged 14 and under!
It's going to be a tense, action packed afternoon of roller derby on Saturday 7 April 2012 when the Cherry Bombers take on The Skatefast Club for their chance to play in the Auld Reekie Roller Girls' first ever Home Season final. The two teams will battle it out to take on the Leithal Weapons in the final who secured their place after beating The Skatefast Club 209-116 and the Cherry Bombers 179-171.
Who will win is anyone's guess! Both teams will be playing to win, and with all to play for it's set to be a cracker – filled with explosive hits, speed and high adrenaline action.
Cherry Bombers' vice captain, Debris Harry, has high hopes for this game and said:-
"You never know what could happen! With the Leithal's epic win against SFC, the Cherries have their first win within their sights! Prepare for all guns blazing in the bout on Easter weekend!"
Meanwhile, flying the flag for the silver and yellow, Skatefast captain Mallory Powers commented:-
"Let's just say that The Skatefast Club have been working hard, both in detention and on track, and we don't intend to leave without a fight. You mess with the bull – you get the horns!"
Don't miss the third bout at Meadowbank of ARRG's biggest and best (and first) home season!
What is modern roller derby?

Roller derby is an all-female sport that involves teams competing on an oval track in a series of 'jams' – two minute periods that see teams of five players each battling to score points. During each jam, one player on each team is designated as the 'jammer' who scores a point for every member of the opposing team she passes.
The sport requires a punishing array of agile and athletic skills, from zig-zag blocking moves to body slams to all-out speed-skating. To perfect these manoeuvres, skaters commit to several hours of practice every week, paying for gear and practice space out of their own pockets.
While it has its roots in sports-entertainment-style exhibition bouts going back as far as the 1930s, modern roller derby has reinvigorated the game with a grass-roots DIY ethos that puts the passion for athleticism front-and-centre.
The trend finally reached Edinburgh in 2008, when a small group of women founded ARRG. The Edinburgh league now averages at over 80 skaters, and is run purely on the volunteer efforts of its members. Auld Reekie Roller Girls recently became full member of the Womens Flat Track Derby Association (WFTDA).