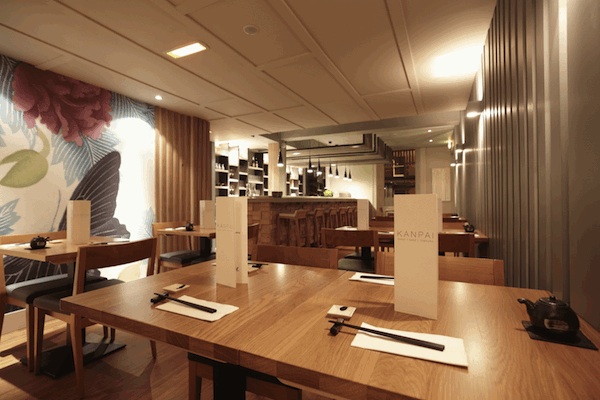 A real hidden Gem for Sushi Lovers
I like my sushi. I have eaten it for years, since holidaying in Japan about 13 years ago. That said, I have only recently started to understand the intricacies of the art of Sushi, and when asked to review Kanpai, which I had heard such brilliant things about, I knew I needed to take a die hard Sushi enthusiast with me.
I found that enthusiast in the form of my business partner, Lucie. I knew that Lucie would embrace the task, and although I am an adventurous foodie, Lucie is far superior in her choices.
Kanpai on Grindlay Street is a real hidden gem, and a perfect spot for a smart lunch, dinner or for those of you who just fancy some deliciously made and beautifully presented food. The restaurant is sleek and spotless, with an open kitchen where you can watch the sushi chefs make up their delicacies – an art in itself!
Lucie and I started off with some meat dumplings which I thought to be a bit of a sell-out at such an amazing sushi establishment, but I highly recommend these tasty little morsels as did our kind and helpful waitress.
Then arrived light tuna sashimi with a Miso dressing (so yummy I could have eaten it from a spoon). Next we had  seaweed (one of my favourite staples at Japanese restaurants) and some of the largest tempura prawns I have ever seen and the tempura was one of the lightest I have encountered.
Next was the real pièce de résistance, something that, if I had not been with my trusty foodie Lucie, I would never have ordered – Aubergine in a sweet Miso Sauce. This is a dish so delicious it is making my mouth water even now. To anyone planning a trip to Kanpai I beg you to try it (even if you don't like Aubergine).
To finish off we ordered dragon rolls with chicken and avocado which were lovely, and soft crab rolls – a real treat and not often seen on a menu. These were scrumptious and I shall definitely be ordering them again.
Pricewise, good sushi is never cheap, but the portions you get are big enough to fill you up, so the price is totally qualified by both quality and quantity. In short, I cannot recommend this little gem highly enough and whether you work rest or play that end of town, Kanpai is a must for any food lover.
Kanpai 8-10 Grindlay Street T 0131 228 1602
The Reporter Food reviewer, Holly Jones, is a partner in The Lifestyle Company Scotland  You can follow the company and their lifestyle tips on Twitter