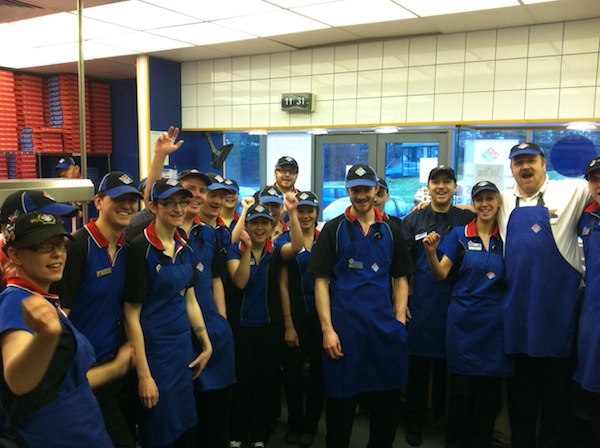 Store managers and team members from Domino's stores across Scotland gathered for Scotland's Fastest Pizza Maker competition earlier this month.
The competition was fast and furious with speed and accuracy being the name of the game as each competitor had to make three large pizzas in as quick a time as possible.
Gordon Penman of the Edinburgh Southside store was determined to take the title this year, after coming   a close second in the competition for the last four consecutive years.  Gordon's passion for pizza making won out as he was delighted when he finally came first and smashed his record by making three large pizzas in a fantastic   time of one minute and 10.22 seconds.
This year's runner-up, doing the west coast proud, was Johnny Edmond of the Glasgow City store, who achieved a time of one minute 35.31 seconds. Both Gordon and Johnny will now go on to battle it out at the UK and Ireland final, which takes place on 29 February at Domino's training centre in Milton Keynes.
Gordon Penman said:- "I am so pleased to have finally won!  I have been so determined each year and although second place is good, there is no feeling like coming first.  I still can't believe I am actually Scotland's Fastest Pizza Maker.   I wasn't nervous this time round – I was just extremely focused – so I think that did the trick.   I'm really looking forward to the next round in Milton Keynes at the end of the month.  It's a major date in the Domino's calendar and one that everyone looks forward to as it is such a great day.  The competition will be fierce but I intend to work really hard and earn my place.  I would be so proud to go further and represent Domino's UK & Ireland in the World final  in America."
The determined Domino's team members came together from all over Scotland to do the nation proud; Dundee, Kirkcaldy, Edinburgh South, Livingston, Battlefield, Glasgow Alexandra Parade, Glasgow Baillieston,  Glasgow Giffnock, Glasgow Crow Road and Glasgow Darnley.
The competition was judged by franchise consultant, Jason Prescott and regional operations manager for southern England, Simon Hudson.  The competitors were judged on speed, accuracy and the quality of the pizza produced.
Each contestant will face rival expert pizza makers from across the UK and Ireland as they battle it out for the title of Fastest Pizza Maker on 29 February in Milton Keynes.  The winner from this final will go stateside to represent the UK and Ireland in the World final which takes place in Las Vegas on May 14.