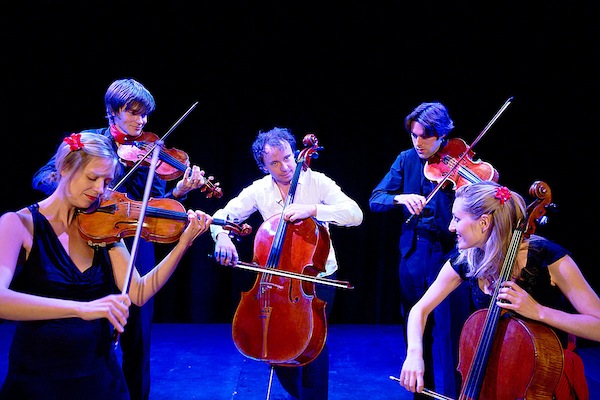 The Caves in Niddry Street offered the perfect venue for the Scottish premiere of Death's Cabaret on 29 November, with their mix of subterranean spookiness and decadent splendour.
Written by composer Stephen Deazley with a text by Martin Riley, it told of a haughty concert cellist's withdrawal to deepest Brittany, his love for a mysterious woman with a murky past, and a chilling midnight encounter with Mistress Death.
It's an odd piece that likeably takes classical music in the direction of theatre – a kind of staged concerto where the soloist, as well as executing a demanding cello part, is required to narrate and sing. And it can only be done by one man: Matthew Sharp, whose prowess on the cello is matched by his considerable abilities as a singer (and whose bronzed, stentorian tones fitted the gothic storyline perfectly).
That might somewhat limit the piece's future life, of course. But no matter. The young British Sacconi Quartet provided the musical backdrops, with immaculate playing and precise ensemble, bringing Deazley's characterful music to colourful life. First violin Ben Hancox was especially impressive in some soaring melodies, although the whole quartet joined in with singing and foot-stamping in a raucous Breton dance.
It was the performances that really carried the evening, though. Sharp gripped the audience from his first words, in a performance delivered with utter conviction that stopped just short of self-parody, and often sent a genuine shiver down the spine. The piece itself, while beautifully crafted and thankfully unpretentious, came across as an amusing entertainment, but not much more.